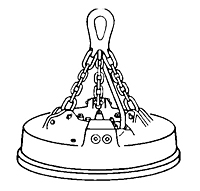 When in doubt about its condition, it should be removed from service. - Mike Leach
Kansas City, MO (PRWEB) March 20, 2013
The March, 2013 Midwest Construction Safety Conference held in Blue Springs, Missouri was the first opportunity for Jim Leach, sales and marketing manager at American Riggers, to present an Awareness seminar on Rigging Inspections.
Mr. Leach covered the legal inspection requirements set forth in the O.S.H.A. standard with regard to frequency of inspection and documents required.
Ҥ 1926.251 Rigging equipment for material handling.
(a) General. (1) Rigging equipment for material handling shall be inspected prior to use on each shift and as necessary during its use to ensure that it is safe. Defective rigging equipment shall be removed from service.
(6)(ii) The employer shall make and maintain a record of the most recent month in which each alloy steel chain sling was thoroughly inspected, and shall make such record available for examination."
Much of the talk during the safety conference focused on the fact that while being compliant with O.S.H.A. is important, if risk management is truly the goal, much more than compliance with the law is required. Consensus standards, published by the American Society of Mechanical Engineers, offer industry valuable guidance for rigging and lifting loads. Covered in Mr. Leach's class were the inspection requirements from the A.S.M.E. B30.9 Sling standard and the A.S.M.E. B30.26 Rigging Hardware standard. All three types of inspections specified in the standards were discussed.

Prior to use, all new, altered, modified, or repaired rigging gear shall be inspected by a designated person to verify compliance with A.S.M.E. provisions. (Written records are not required)
A visual inspection for damage shall be performed by the user or other designated person each day or shift the gear is used.
(Written records are not required)
A complete inspection for damage of the gear shall be periodically performed by a designated person.
-Periodic inspection intervals shall not exceed 1 year.-
(For slings, a written record shall be maintained and shall include the condition of the sling.)
(For rigging hardware, a written record is not required.)
In addition to types of inspection required, specific criteria for removal from service were reviewed for wire rope slings, synthetic web slings, polyester round slings, alloy chain slings and commonly used rigging hardware. Sample slings and hardware were passed around for evaluation by the attendees. The point was made regarding all lifting equipment inspection, "When in doubt about its condition, it should be removed from service."
Mr. Leach indicated the condition of the rigging equipment is just one aspect of a lift plan and it is critical to review all aspects of the operation prior to making a pick. He anticipates the 2013 publication of a new A.S.M.E. standard, P 30.1, addressing planning for load handling activities.
In the world of lifting and moving loads, there is always some risk involved. Training is a fundamental aspect of managing it. By offering new Lifting and Rigging Awareness classes, American Rigger's Supply's expectation is developing concern and knowledge, and in the end, reducing risk.