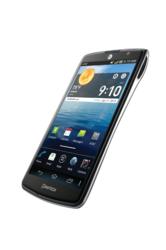 Atlanta, GA (PRWEB) March 20, 2013
Pantech Wireless, Inc., the U.S.-based subsidiary of Pantech Co., Ltd., an innovative and leading wireless device manufacturer, has just launched its first-ever online video campaign; a series of tongue-in-cheek videos created to support the company's new Discover Android smartphone.
The socially-sharable "Save Me Moments" series features four awkward, yet comical, real-life situations that are designed to connect the consumer to the new Pantech Discover and showcase its affordable cost of $49.99 with a two-year contract from AT&T. The situations include a dinner with parents, too many furry bedtime guests, a visit from an aggressive aunt and the morning after a wild night. The 30-second spots are interconnected with the theme "The Pantech Discover smartphone can't save you from [awkward moment], but it can save you up to $150 on a smartphone."
"The Pantech Discover smartphone has the capabilities to provide stunning images, sharp video, luxurious sound and premium features at an affordable price. It is a great choice for any smartphone user," said Erin Magee, Director, Channel Marketing, Pantech. "We're excited to launch such a funny and engaging video campaign that targets our Millennial audience with light-hearted, shareable content."
Boasting some of AT&T's most unique messaging and smartphone designs, Pantech wireless devices are innovative lifestyle products designed to keep consumers connected at all times. Whether zipping off a quick text to friends during a concert, updating their status with a clever video clip or downloading the latest app, Pantech products deliver state-of-the-art experiences for today's on-the-go and constantly connected person. Known for their affordable prices, Pantech handsets and tablets can be found at AT&T stores and retailers nationwide.
CSE, one of the most diversified independent marketing agencies in the country, is executing the overall Pantech Discover campaign. The effort focuses on growing brand and product awareness, driving traffic to Pantech's website and growing Pantech's social media channels through consumer engagement. From concepting, writing, casting, shooting, editing and producing the video spots to implementing digital and social media buys to engaging social fans through a surprise and delight Twitter extension, CSE is delivering a comprehensive social and digital campaign for the feature-rich smartphone.
Links to the Pantech Discover "Save Me Moments" videos:
Aunt Jessica
Bedtime Guests
Dinner with Parents
Morning After
About Pantech
Pantech Wireless, Inc., an Atlanta based subsidiary of Pantech Co., Ltd., researches, markets and develops wireless handsets, tablets and telecommunications products throughout North America as part of the Pantech Group. For additional information, visit the PWI website and connect socially on Facebook, Instagram, Twitter and YouTube.