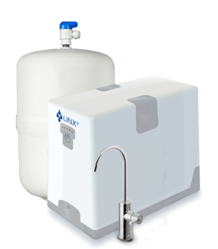 Plants only use half the nitrogen fertilizer that farmers apply. The other half hops a ride on water molecules…eventually making its way into local drinking-water wells…"
San Carlos, CA (PRWEB) March 19, 2013
Pionetics Corporation announces the LINX 160 Drinking Water System removes Nitrates and Nitrites to Non-Detect levels – effectively removing 99% of these contaminants. Go to our video to
see how this technology works.
Nitrates (NO3) and Nitrites (NO2) both occur naturally in nature, in our food and in our water supply; and our body needs them to some extent. Nitrates are used primarily to make fertilizer, explosives and glass while nitrites are used as a preservative in foods. When these two naturally occurring chemicals are ingested in excess, they can cause very dangerous side effects.
While these chemicals will prevent the growth of bacteria, they can be toxic at higher doses and are especially dangerous for infants and children. According to the Environmental Health Investigations Branch, one of the problems with ingesting nitrates/nitrites is that it can cause the hemoglobin in blood to convert to methemoglobin, and this reduces the bloods ability to carry oxygen. This inability to carry the oxygen through the blood is a condition known as Blue Baby Syndrome. Blue Baby Syndrome can cause brain damage and even death.
In adults, this inability to carry the oxygen through the blood can cause dizziness, headaches, irritability and blue tones in the skin. Pregnant women exposed to high levels of nitrates and nitrites can cause intrauterine growth retardation, cardiac defects, and nervous system defects; according to the United States Environmental Protection Agency.
Most poisonings typically occur when these chemicals are ingested in dangerous levels through contaminated well water or municipal water, where nitrate rich fertilizers have leeched into the drinking water supply.
"Farmland areas and well water sources are especially susceptible to contaminates such as nitrates and nitrites," states H. Martin Jessen, of Pionetics Corporation. "According to a recent study by UC Davis scientists plants only use half the nitrogen fertilizer that farmers apply. The other half hops a ride on water molecules and percolates down through the soil, eventually making its way into local drinking-water wells—where nitrate contamination can make the water unfit for human consumption. The LINX 160 will reduce Nitrate + Nitrite levels by over 99% – making the water safe for consumption."
Other sources of nitrates include wastewater treatment plants, runoff from fertilized lawns and cropland, failing on-site septic systems, runoff from animal manure storage areas, and industrial discharges that contain corrosion inhibitors.
Presented in the attached file is a table from the LINX 160 Product Data Sheet that is included in the final certification test data illustrating the Nitrate and Nitrites test results.
LINX Drinking Water Systems are now available in two Under-the-Sink models or as a Bottleless Water Cooler. The systems allow for several important and unique features not offered by any other drinking water system:

Significantly less water waste than Reverse Osmosis (RO) – see the video Insane Water Waste,
Operates using programmable software and display indicator lights that provide the consumer with detailed yet simple information about the system status,
Dial-A-Taste® Control that allows the consumer to customize the taste of their drinking water for more or less mineral content.
Field Service Assistant which enables the technician to reprogram the LINX unit based on feedwater quality, further optimizing water recovery rates, customizing the system's performance, and maximizing effectiveness and efficiency.
Simplicity of installation and servicing of the equipment.
The new LINX 160 produces plenty of water for normal household use at very high recovery (up to 90% depending on feedwater) and at a lower cost.
LINX technology is also available for integration with existing systems. Anyone interested in the LINX technology, or in becoming a distributor or dealer anywhere around the world, should contact H. Martin Jessen at 480-836-0887.
About Pionetics Corporation:
Pionetics is an innovative water technology company that develops smart water treatment products that produce great tasting, safe drinking water with less wastewater than traditional water treatment systems. Pionetics is privately owned and financially backed by Kline Hawkes & Co, NGEN Partners, and Unilever Technology Ventures Fund.
Pionetics is located in San Carlos, CA. To date, Pionetics has been issued over 50 patents worldwide to protect its proprietary know-how and innovative technology.
Contact:
H. Martin Jessen
480-836-0887
mjessen(at)pionetics(dot)com