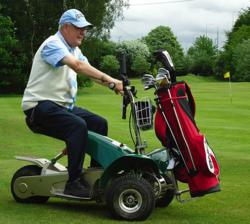 Golf clubs love the flexible lease package which allows them to generate extra revenue.
(PRWEB UK) 20 March 2013
The number of golfers playing into their twilight years is increasing all the time, this coupled with the fact that visiting parties expect the use of a golf buggy to be the norm mean that the demand for golf buggies is ever increasing.
The recently launched Fairway Rider G3 single seat golf buggy offers exciting innovation accompanied with an ultra-modern style. Some of the important features include easy storage with foldable design, 2 speed, forward and reverse, eco-friendly and comfortably handles 36 holes on a single charge.
Director Neil Gray states "We wanted to introduce a golf product to the UK market that not only was affordable to the individual golfer but could also generate another revenue stream for golf clubs nationwide. The response we have received has been incredible. Golfers love the unique design and are no longer limited to the style of buggy that is often seen at Tesco's. Golf clubs love the flexible lease package which allows them to generate extra revenue which is much needed and has helped many clubs retain members."
The G3 can now been seen at many golf clubs throughout the UK and Ireland including the home of English golf, Woodhall Spa.
With the approval of the disabled golf society, the buggy fits right in with the need for golf clubs to provide access to the course to be compliant with the Equality Act 2010.
The G3 is endorsed and sponsored by Eamonn Darcy. Eamonn is a 15 time PGA tour winner, 4 times Ryder cup player and has finished in the top 20 in the European order of merit 9 times.
The following is an excerpt from an article he recently wrote for Backspin Golf Magazine:
"I was very pleased to discover a revolution in the golf buggy industry whilst playing in the Senior Masters at Woburn Golf Club last year. The Fairway Rider G3 is a breath of fresh air, sleek, stylish and extremely comfortable and a pure joy to use. This is why I had no hesitation in ordering one, which I now use regularly when I play at home in Ireland. What a fantastic piece of engineering for any golfer who needs the use of a ride on golf buggy. I would say they are a must for the individual golfer and a great asset for any golf club looking to increase revenue with both lease and purchase options available."
The price point is extremely competitive and probably makes G3 the best value for money single seat golf buggy available in the UK today. The Fairway Rider G3 continues to go from strength to strength and golfers all over the UK are now enjoying their golf even more.