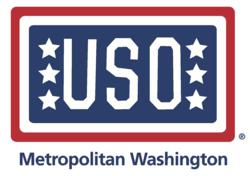 My USO experience is probably one of the few that is full circle in that I've given aid and received it,- Kat Causey.
Arlington, VA (PRWEB) March 19, 2013
The USO of Metropolitan Washington(USO-Metro) presented Kathleen (Kat) Harris Causey with the John Gioia Patriot Award during its 31st Annual Awards Dinner last week at the Renaissance Arlington Capital View Hotel in Crystal City, Virginia. Kat Causey was serving as a USO volunteer at Fort Drum, NY when her husband, Army Sergeant First Class Aaron Causey, an EOD technician, was severely wounded in Afghanistan while disarming an improvised explosive device on September 7, 2011. He sustained double leg amputations above the knee, two finger amputations, and multiple other injuries.
Kat Causey was honored at the Annual Awards Dinner for her work as a USO volunteer and was recognized for her advocacy on behalf of wounded, ill and injured military members and their caregivers.
Prior to announcing Kat Causey to the stage during the star-studded gala , a short video was shown telling the emotional story of Kat and Aaron's journey from the time they met at an Irish pub to his return to the United States, where he is currently receiving treatment for his injuries at Walter Reed National Military Medical Center at Bethesda. Kat Causey narrates the video, describing her work as USO volunteer and how she subsequently received support from USO volunteers during her greatest time of need.
Upon receiving the news of her husband's injuries, Kat Causey says that the USO provided her support and assistance through their airport centers, as she made the long trip from the United States to Germany and back in order to be by her husband's side.
"Every step of my journey, as I traveled from Fort Drum, to Washington, D.C., from D.C. to Frankfurt, to Landstuhl, all the way back again to Walter Reed, they (USO) were there" said Kat Causey.
As part of its emergency assistance programs, USO-Metro provided emergency housing for Kat and Aaron's parents so they could be near the couple as they went through the most difficult periods of Aaron's recovery. USO-Metro also provided care packages to the Causey's upon their arrival at the hospital.
"My USO experience is probably one of the few that is full circle in that I've given aid and received it," said Kat Causey.
At the dinner, SFC Aaron Causey introduced his wife, and alongside Elaine Rogers, CEO of USO of Metropolitan Washington, presented her with the John Gioia Patriot Award. The Colonel John Gioia Patriot Award is named after a retired Air Force colonel who served on the USO-Metro board of directors for more than 20 years, and is given to a USO volunteer or supporter who embodies John Gioia's spirit of service to our troops.
"All of us at USO-Metro absolutely love Kat and Aaron," said Elaine Rogers, CEO and President of USO of Metropolitan Washington. "Their strength and courage is an inspiration to us all. We truly appreciate volunteers like Kat Causey who do so much to help us lift the spirits of America's troops and their families each and every day."
Kat Causey plans to serve as a volunteer at the USO Warrior and Family Center at Bethesda that is slated to open in mid-2014. For more information about the services provided by USO-Metro, or to interview Kat and Aaron Causey, please contact Michelle Shortencarrier, 703-864-6429.
About USO-Metro:
USO of Metropolitan Washington (USO-Metro) is a nonprofit 501(c)(3) organization chartered by Congress, and dedicated to "Serving those who serve, and their families" in Washington D.C., Maryland and Northern Virginia. It is through the generous financial support of individuals and organizations in the local community that USO-Metro is able to fulfill its mission. With the help of nearly 5,000 devoted volunteers, USO-Metro provides programs and services for active duty troops and their families at area military hospitals; through its Mobile USO program; at five USO Centers, and four USO airport lounges. For more information please visit http://www.usometro.org or "like" us on Facebook, Twitter and YouTube by searching USOMetroDC.
###