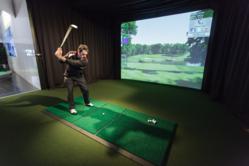 We wanted to give our customers that 'wow' experience.
(PRWEB) March 20, 2013
Customers of a Lexus dealership can now play a round on Pebble Beach® while waiting for their car to be serviced. The dealership recently installed a High Definition Golf™ simulator, which features the most advanced indoor golf experience available.
"We wanted to give our customers that 'wow' experience," says dealership owner Jim Jiwani. "Now they can look forward to coming in for servicing or even checking out the new models." Located in Edmonton, Alberta, the Lexus dealership is the largest in Canada.
Installed a couple months ago, Jiwani says car owners are already booking appointments on the golf simulator. "They bring in their clubs and play 8 or 9 holes while waiting for their car to be serviced," says Jiwani. This summer he is planning on offering client's golf clinics with local pros.
In addition to clients, the simulator has become a perk for employees. "Our staff use it after work and we have been holding mini-tournaments. It helps keep them motivated," says Jiwani.
"Having this type of amenity really helps set a dealership apart. Besides driving customer loyalty, it helps build buzz in the community," says Todd Richardson, President and CEO of HD Golf™. He says several other dealerships are currently looking at installing a simulator.
HD Golf™ has also been featured recently at several luxury car events, including the grand opening of a BMW dealership, at a private Lamborghini owner event and at Mercedes-Benz' worldwide customer golf championship. "Golf is a leading pastime of the affluent, thus HD Golf is the perfect amenity for luxury car events," says Richardson.
About High Definition Golf™
High Definition Golf™ is the only golf simulator that looks and plays like the real thing. Spectacular photo-realistic capabilities capture the true beauty of some of the world's most renowned golf courses from Pebble Beach® to St. Andrews®. Revolutionary image processing software combines high resolution digital imagery and satellite data into 3D models of golf courses that not only look real - they are completely accurate everywhere on the course. Every tree, bunker and hazard is faithfully reproduced exactly as you would see it playing the actual course.
-30-
For media inquiries contact: Bobbi Bulmer, Marketing Director, Bobbi(at)HDgolf(dot)com
For sales inquiries contact: James Patriquin, VP of Sales, JamesP(at)HDgolf(dot)com
Company: Interactive Sports Technologies Inc. Tel: 1-866-323-0095 Website: http://www.HDgolf.com