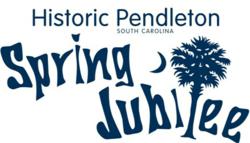 Pendleton, SC (PRWEB) March 20, 2013
Historic Pendleton Spring Jubilee
The 36th Annual Historic Pendleton Spring Jubilee, a juried arts and crafts festival, will display the artwork of 90 artists with their one-of-a-kind pieces for sale. The festival will take place Saturday, April 6 from 10 a.m. to 6 p.m. and Sunday, April 7 from 12 p.m. to 5 p.m. This family-friendly event will feature live entertainment, delicious food, information from local non-profits, free shuttle-parking and public transportation provided by CATbus. Pendleton District Commission invites families to spend a spring weekend in beautiful and historic downtown Pendleton and start a yearly family tradition.
This annual festival is coordinated by the Pendleton District Commission, with support from community sponsors New York Life and Palmetto Bank and will take place at The Village Green in historic downtown Pendleton located at the intersection of S.C. Hwy 88 and S.C. Hwy 28 Business.
Spring Jubiliee attracts visitors from across the country and around the world. Jubilee is free, open to the public and draws over 20,000 attendees each year. On Saturday night, Bluegrass Under the Stars at Tri-County Technical College will present a live Bluegrass music concert and fireworks show, also free and open to the public.
Historic tours are available at nearby historic plantation homes. For more information, or to plan a tour, those interested should visit Pendleton District Commission's website.
Just two weeks after Spring Jubilee, Clemson Blues Festival brings a downhome style Blues festival to the area April 18-21, 2013. Enjoy four days of blues, R&B music, lessons, and musical culture in Clemson, South Carolina. Performed in venues from small local restaurants to large outdoor tents. Headliners include Jimi Lee, The Blues Doctors w/Adam Gussow, Robbie Ducey Band, Rob Cassels Band, Cold Bluesion, True Blues, Ceasar, MILL BILLY BLUES w/Freddie Vanderford, Snopes Family Band and The Tony Tidwell Band. A special local treat - local Gospel Choirs will perform on Sunday. Visit clemsonbluesfest.com and secure your tickets early.
About the company:
Pendleton District Commission is an organization that promotes the arts, history, travel and tourism throughout Anderson, Pickens, and Oconee Counties. Pendleton District Historical, Recreational, and Tourism Commission was established in 1966 by the South Carolina Legislature to promote historic preservation and tourism in Anderson, Oconee, and Pickens Counties of South Carolina. The Commission is governed by nine Commissioners, with three nominated by each Legislative Delegation of the three counties represented. Within the district, visitors may enjoy scenic views of the Blue Ridge Mountains, go white water rafting, attend one of many local events, explore hiking trails in National Forests or Jocassee Gorges, spend time boating or fishing Lake Hartwell, Lake Keowee, or Lake Jocassee, or absorb the region's history at one of historic sites or museums. For more information, please visit http://www.pendletondistrict.org.