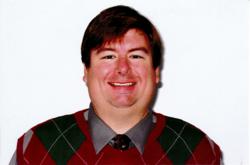 Greensboro, NC (PRWEB) March 31, 2013
The NBCC Foundation, an affiliate of the National Board for Certified Counselors, Inc. (NBCC), recently awarded a 2013 NBCC Foundation (NBCCF) Human Services-Board Certified Practitioner (HS-BCP) to Ryan M. Maddux, of Glen Allen, Virginia. The HS-BCP scholarships are awarded to HS-BCP credential holders who are pursuing or intend to pursue a career in counseling.
The goal of the scholarship program is to increase the number of available counselors with the HS-BCP credential. This supports the NBCC Foundation's mission to leverage the power of counseling by strategically focusing resources for positive change. Students from across the country applied for the scholarship, and the NBCC Foundation Board of Trustees was impressed with the high caliber of the applicants.
In recognition of his commitment to human services and counseling, Mr. Maddux will receive $2,000 to support his education. Mr. Maddux is pursuing a human services bachelor's degree at Old Dominion University, and works for the local government as a training specialist, helping unemployed individuals gain job skills. Upon graduation, he intends to pursue a career in counseling and continue helping individuals obtain gainful employment in his community.
One additional HS-BCP scholarship has been awarded to a master's-level counseling student. For more information or to make a gift in support of the Foundation's mission, please visit http://www.nbccf.org. For more information about the HS-BCP credential offered by the Center for Credentialing & Education (CCE), please visit http://www.cce-global.org/HSBCP. CCE is a platinum sponsor of the NBCC Foundation.
###
About the NBCC Foundation
The NBCC Foundation is an affiliate of the National Board for Certified Counselors (NBCC), based in Greensboro, North Carolina. NBCC is the nation's premier professional certification board for counselors who meet high standards for the general and specialty practices of professional counseling. Currently, there are more than 52,000 National Certified Counselors (NCCs) in the United States and more than 50 countries.