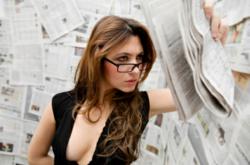 (PRWEB UK) 20 March 2013
A new study conducted by the UK's leading married dating site IllicitEncounters.com has revealed the female professions that men find the most attractive, and those that are more likely to find success when it comes to looking for romance online.
The study asked over 2,700 male members of the UK's largest married dating website what they thought the sexiest profession was for a partner and why. The top result was revealed to be journalists with 27% of the votes, journalists are seen by men as naturally sharp, well spoken, sophisticated and ambitious. The second profession men found sexy were women who are professional chefs (21%), with men describing them as adventurous creative and with excellent taste.
According to the study, the least attractive profession is a reality TV star; men viewed them as vain, self-absorbed and unintelligent.
IllicitEncounters.com spokesperson Rosie Freeman-Jones commented: "Women who are confident and intelligent are seen by men as sexy, Men on the site are looking for women who can stimulate and engage them on an intellectual level as well as a physical one. It appears that the fake tan and aggressive nature of some reality stars may act as a massive turn off to some men. On the other hand journalists are seen as sophisticated yet approachable and chefs are seen as creative, adventurous and willing to experiment."
Other professions that made the 'hot' list include nurses and teachers who where described as inspiring and caring whilst entrepreneurs where seen to be risk takers, motivated and ambitious.
Michael, 47, from London, who uses IllicitEncounters.com to meet married women commented "When I am looking for a date I am looking for someone who is intelligent, passionate and creative, I want a woman who is motivated and self-confident. I tend to avoid women who are obsessed with themselves and how they look, I don't find the vacuous image of reality stars attractive, I would much rather meet a woman who is smart and creative not just dipped in fake tan."
It seems men are not just looking for a quick fling and are looking for women they actually can connect with, they are spending more time than ever online messaging with women in the hope of connecting with someone special.