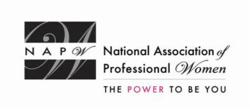 Ms. Hedren told us about her career in Hollywood, how she landed a contract with the famous Alfred Hitchcock , and her other acting roles...It was such an inspiring journey and all of us in the room were grateful to hear her stories.
Garden City, NY (PRWEB) March 20, 2013
Members and guests of the NAPW Santa Clarita, CA Local Chapter kicked off the New Year when they gathered on January 12th for a professional networking event at George's Bistro in Valencia.
The group of professional women welcomed three special guest speakers including Actress and Animal Rescue Activist Tippi Hedren to the monthly meeting, whose theme was "Embracing the New Year with Health & Happiness."
NAPW Santa Clarita Local Chapter President Nicky "Dare" Eddy welcomed members , their guests, and the three guest speakers to the meeting, who were Hollywood legend Tippi Hedren, who is the Founder of Shambala Preserve/The Roar Foundation, Author Jaime Polites and Sharon Ventrice of Prayer Angels for the Military of Santa Clarita.
"Thank you everyone for attending and a special thanks to our special guests who are here to help us get the New Year off to a healthy and happy start," said Ms. Eddy.
"Remember, the New Year starts with new hope, new beginning, new opportunities, and more importantly, a new you!"
As is her tradition at Chapter meetings, Ms. Eddy asked one of the members to read the NAPW Mission Statement and Brand Promise.
Then, the Chapter President introduced Ms. Hedren and asked her to share with the group her amazing journey and personal experiences that took her from a modeling career to acting to her current work that includes passing a bill at congress. The group of professional women applauded loudly as Ms. Hedren took the floor.
Best known for her role in Alfred Hitchcock's 1963 classic film The Birds, the actress shared her amazing stories about the "revolving doors" of her life, which were symbolic of the many opportunities given to her that led to her personal and professional career choices.
Ms. Hedren spoke about her personal relationships, her family, her bond with her beautiful daughter Melanie Griffith, and her grandkids. She told members and guests about her modeling career as well as her commercial ventures.
"Ms. Hedren told us about her career in Hollywood, how she landed a contract with the famous Alfred Hitchcock , and her other acting roles," said Ms. Eddy. "It was such an inspiring journey and all of us in the room were grateful to hear her stories."
The next guest speaker, Sharon Ventrice of Prayer Angels, spoke to the group of professional women about what she does for those in the military. She showed members and guests her handmade blankets that were to be donated to the troops in Afghanistan. She also showed the letters and holiday cards NAPW Santa Clarita members signed at the last November meeting.
"We were very glad to have Ms. Ventrice attend our meeting and proud to have contributed to the wonderful items that were to be sent out as care packages to our troops," said Ms. Eddy.
The third guest speaker then addressed the crowd. Jaime Polites, who drove with her mother Judy from Rancho Cucamonga to attend the Chapter meeting, is the Author of Erasing the Sky. In her book, Ms. Polites writes about how she survived a fatal automobile accident in 1994 and has been living with a brain injury ever since.
"It was such an inspiring, heartfelt story that Ms. Polites shared with the group," said the Chapter President. "We were all grateful for such wonderful guest speakers."
After the presentations, Ms. Eddy made a number of announcements and updates about NAPW National Headquarters including that it had reached its goals of totaling 400 chapters nationwide by the end of 2012.
"And don't forget the NAPW National Networking Conference that will be held Friday, April 26th in New York. It features keynote speakers Martha Stewart and Arianna Huffington," she told the crowd. "It is free to all members. More details are available on napw.com."
The Chapter President also updated members and guests on the joint meeting with southern California Chapter Presidents she has been working to initiate with the support of NAPW. As of January 4th, 11 Chapter Presidents have signed on to attend the meeting where they will discuss how to continue to grow the Chapters.
"We hope to ultimately launch our own Annual Business Expo in Southern California. This joint effort is to support and promote our common missions, goals, and objectives," said Ms. Eddy.
The Chapter President made the suggestion to start a "Jar of Achievements:" Each time you achieve something good in your life, you write it down on a small piece of paper, and throw it into the jar. She invited everyone to start doing this at the February meeting, instructing members and guests to write down their top five achievements, personally or professionally, of last year.
"You will share with us what you wrote once you introduce yourself, when we go around the table," she said the crowd.
In keeping with the theme of the January Chapter meeting, the Chapter President had some advice for members and guests:
"It begins with the mindset. It is how you perceive, embrace, and celebrate the New Year. Be smart. Moderation. Balance. Eat right, Exercise. Drink lots of water. Have downtime for yourself. Shut down and reboot. Clean up your clutter. Recycle. Donate. Motivate. And drive yourself. Focus. Look at things from a bird's eye view, instead of allowing yourself to be stuck in a rut. Break old habits. Balance your life with health and happiness," she said. "Here's to another great and successful year to everyone!"
Ms. Eddy then invited the group of professional women to introduce themselves and tell the crowd about their businesses, why they joined NAPW, and what they would like to gain from their membership. She also encouraged members and guests to check out napw.com for membership discounts, perks, educational resources, online seminars, and much more.
"What is the one thing you would like to learn this year? As I said before, this is your meeting, you group, you success!" she said to attendees.
The group of professional women went on to discuss a number of Chapter items: NAPW Santa Clarita Chapter t-shirts are in the works and awaiting approval; the Chapter hopes to be a part of the upcoming Chambers of Commerce event and Business Expo 2013 on October 19th at Market Place; the Chapter is looking into participating in local charities and fundraising events to take part in the national award charity program; the Chapter will continue to brainstorm and put forth more focused ideas such as "Cocktails for Good Cause," "Wine & Cheese," "Dress for Success," "Children's Disabilities," and more.
The Chapter President spoke about the Emergency Preparedness: Survival and Safety program that the group spoke about at the last meeting.
"Members gave positive feedback that this idea of "survival bins" was great," she said. "They were grateful to have been exposed and introduced to this topic at the previous meeting. It was such important and useful information."
Ms. Eddy also announced that next month's meeting on February 12th will feature the topic: Tips in Tax Preparation for You and Your Business. The presentation will be given by Santa Clarita Chapter member Carmen Chivu of Bessolo Haworth & Vogel, LLP.
Before the meeting concluded, members and guests had the opportunity to network further and exchange business cards. Special raffle prizes were given by the Chapter President: VIP Tickets to the Dr. Phil show at Paramount Pictures Studios in Hollywood. Tish Dawson was the lucky winner.
"Thank you everyone for coming and if anyone has suggestions for future projects, ideas, feedbacks, please let me know," said Ms. Eddy at the meeting's end. "Let's continue to share and grow!"
Three new members at the January networking meeting were: Grace Lee of Grace Lee International, which specializes in social graces and international business etiquette decorum; Cynthia Stearns of Qwik-Tab, which specializes in exhibit tabs for court document preparation for law firms nationwide and internationally; and Sharon Nunn of Details and Style, which specializes in interior decorating, event styling, and garden landscaping.
The National Association of Professional Women (NAPW) is the largest and most recognized network of female professionals. NAPW provides a forum where women can interact, exchange ideas, educate, network, and empower. NAPW Local Chapters allow members to maximize their experience through meetings, networking opportunities, and professional events.
For additional information regarding the NAPW Santa Clarita, CA Local Chapter and/or NAPW, please visit http://www.napw.com.
Follow NAPW on Facebook and Twitter.
###