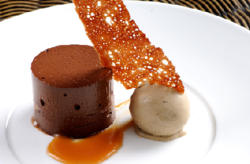 The wealth of knowledge both Pierre and David are able bring to The Terrace is second to none.
(PRWEB) March 21, 2013
The Terrace Restaurant, located at The Montagu Arms Hotel in Beaulieu has long been a favourite with both locals and those from further afield - known for its use of seasonal, locally sourced ingredients as well as being the only Michelin Starred New Forest hotel.
The Terrace restaurant, has now added two new, vastly experienced staff members to work alongside Head Chef, Matthew Tomkinson and his team to offer the ultimate dining experience.
Pierre Rizet Mosser, appointed Restaurant Manager at The Terrace comes from an impressive background. Having developed his expertise, under the watchful eye of top French chef, Marc Meneau and more recently the internationally renowned duo of Michel and Alain Roux, Pierre brings his exemplary customer service and enthusiastic personality to the dining room. His keen interest in creating the perfect dining experience is sure to prove a hit with both new and returning customers.
David Kubler, joins the team as Head Sommelier with an equally notable background in some of the worlds leading restaurants. Having previously worked as a Sommelier at Heston Blumenthal's, The Fat Duck and The Mandarin Grill & Bar in Hong Kong, both regarded among the crowning restaurants in the world, David also draws on experience from other top establishments including Le Manoir aux Quat'Saisons and The Vineyard, both with Two Michelin Stars. With his wealth of experience and superior knowledge of top wines from all around the world, David plans to work closely with Matthew to ensure the wine matches the day's menu to give the customer the best experience.
Pierre and David will be joining union with Matthew to create one of the most anticipated partnerships in hospitality. An ex Roux Scholar himself, Matthew has developed his passion for good, honest food and a stunning eye for detail after being taught by some of the most well known and well respected chefs in the industry. Following in the footsteps of so many who taught him, Matthew led The Terrace to their first star in 2009 and continues to provide menus, which meet this renowned standard.
"The wealth of knowledge both Pierre and David are able bring to the Terrace is second to none. Having both worked extensively in top Michelin Starred restaurants, I am looking forward to working with them and developing ideas on how we can further enhance the dining experience we provide to our guests," comments Matthew.
The Montagu Arms and The Terrace restaurant are truly magical places and a must for anyone interested in fine dining.
To experience the wealth of knowledge and experience from the top trio, please visit http://www.montaguarmshotel.co.uk or call 01590 612324.