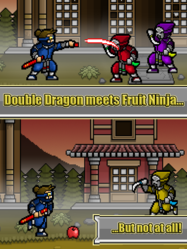 I love how this game brings back fond memories of Classic arcade gaming like Double Dragon and Ninja Gaiden - High Schoolz for Foolz
London, Ontario (PRWEB) March 21, 2013
Anything Ninja seems to be all the rage these days, and Ninja Adventure doesn't disappoint. The storyline quickly unfolds as Japanese Ninjas fight it out along a course of narrow streets and alleyways where eating pieces of fruit can only make you stronger. Ninjas increase skill and weaponry to become powerful ninja assassins in a race to the finish line. Double Dragon meets Fruit Ninja in an epic street battle, but where is the Blue Ninja? Who is strong enough to fight him?
The game features classic gaming graphics set back in feudal-inspired Japan. It pits a variety of Ninja masters against one another in the hopes of unlocking the Secret Chamber. "Fun to play and addictive, we are hoping game players of all ages quickly catch on to this one," Brad Mills vocalizes recently from him London, Ontario office.
Ninja Adventure has great looking background synonymous with everything a Ninja –infused Japan can throw at it. As you jump, kick, and slice up your opponents along the path to the Secret Chamber, there are many ways to get the upper hand including Fruit Health pickups.
Slightly Social, a Canadian startup gaming company, is again proud to announce another free game download (Ninja Adventure) is now available exclusively through the Apple AppStore. Ninja Adventure is optimised to work on iPad, iPhone and iPod devices and requires iOS 4.3 or later.
------------
Brad Mills
CEO and Director
Slightly Social Inc
519-913-1711
About:
Slightly Social, an Indie Gaming Startup Company from Canada, that makes high end mobile games for fun and friendly competition. We are surrounded by some of the most talented and smartest gaming professionals in the business and hope for much gaming success in 2013.
Connect with Slightly Social on Facebook:
[https://www.facebook.com/slightlysocial
Check out our other games on our website:
[http://SlightlySocial.com
ITUNES DOWNLOAD LINK:
https://itunes.apple.com/ca/app/ninja-adventure-8bit-samurai/id602271676?mt=8