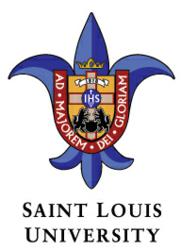 St. Louis, MO (PRWEB) March 20, 2013
The School for Professional Studies at Saint Louis University is hosting an Open House on Thursday, May 2, 2013. Those interested in earning a graduate degree from SLU are encouraged to attend. This is the perfect opportunity to meet department chairs, faculty and current students in your program of interest. They'll be able to answer all of your questions about graduate school at SLU including the application process.
Event Details:
May 2, 2013
5:00 p.m. - 7:00 p.m.
Brouster Hall located at 3840 Lindell Blvd.
St. Louis, MO 63108
No fee to attend but registration is required. Fill out the form on busyadults.slu.edu or call 314.977.2330 to register.
The two Master's degrees offered through the School for Professional Studies are highlighted below:
M.A. in Leadership and Organizational Development
Master's degree for those looking to advance in business management
36-hour program designed for working adults
Courses are offered in online and blended formats in accelerated 8-week terms
Students will develop 12 competencies through project-based learning
Career opportunities for graduates include:
Human Resource Management
Organizational Development
Training and Development
M.S. in Organizational Informatics
Master's degree for IT professionals
36-hour program designed for working adults
Courses are offered in online and blended formats in accelerated 8-week terms
Students will develop 12 competencies through project-based learning
Career opportunities for graduates include:
Project Managers
Business Systems Analyst
Information Security Manager