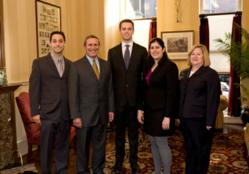 (PRWEB) March 25, 2013
The Law Firm of Pozzuolo Rodden P.C., announces the release of the article "Can I Sell The Stock Of My Small Business And Pay Zero Federal Taxes?" Please read the full article and other business, or estate planning topics at http://www.pozzuolo.com/Pubs_Articles.shtml
CAN I SELL THE STOCK OF MY SMALL BUSINESS AND PAY ZERO FEDERAL TAXES?
Yes, potentially, there may be no federal tax ramifications on the sale of the stock of your incorporated family business. The American Taxpayer Relief Act of 2012 (ATRA), passed into law in January 2013, extends some previously enacted tax benefits for small business owners. A noted benefit is the exclusion from gain on the sale of qualified small business stock (QSB stock). Generally, individual taxpayers were permitted to exclude a percentage of the capital gain from the sale or exchange of qualified small business tock. Initially, the exclusion worked only for 50% of the gain. In recent years, the percentage of gain excluded from tax has steadily increased from 50% to 75% to 100%. ATRA maintains the exclusion at a 100% rate. Therefore, an individual taxpayer who sells his qualified small business stock will be able to exclude the entire gain from the sale of the stock. Also, the excluded gain remains a nonpreference item for alternative minimum tax (AMT).

The 100% exclusion related to QSB stock acquired after September 27, 2010 and before January 1, 2014
The investor must generally hold the QSB stock for five years
Generally, the stock must be acquired by the investor at original issuance
The small business may not have gross assets of $50 million or more at issuance of the stock
The stock must be stock in a "C" corporation
The amount of gain that is eligible for exclusion under this provision is equal to the greater of (a) 10 times the investor's basis in the stock or (b) $10 million.
Other limitations may apply and special rules apply for stock acquired in exchange for property.
The idea behind the exclusion is to promote investment in small businesses that qualify for the beneficial tax treatment. Furthermore, for those considering starting their own business, it may be a wise idea to acquire qualified small business stock during 2013 to secure the benefit of the Act.
If you would like to read this and other business or estate planning topics please visit our web site at http://www.pozzuolo.com/Pubs_Articles.shtml
Pozzuolo Rodden, P.C. provides specialized cost-effective legal services to privately held business owners and high-net-worth clients in Pennsylvania and New Jersey in excess of 35 years.
Practice Areas:
Business planning and transaction, complex business litigation, commercial real estate and development, construction law and litigation, advanced estate planning and administration, tax and pension law, high profile and intricate family litigation, and employment law and litigation.
Pozzuolo Rodden, P.C.
Counselors at Law
2033 Walnut Street
Philadelphia, PA 19103
215-977-8200