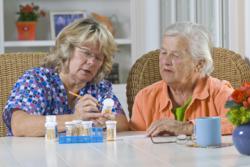 Patients can decrease medication mistakes that can result in serious health problems
(PRWEB) March 21, 2013
Automated Security Alert (ASA), a leading provider of medication management systems, and Hometown Pharmacy (Hometown), a leading Pittsburgh area pharmacy with six locations, will partner to facilitate medication management for Hometown pharmacy clients.
Hometown will provide medications and pharmacy consultation to its clients, along with medication dispensers supplied by ASA to be placed in clients' homes. Shawn Nairn, Owner of Hometown Pharmacy, said, "Medication compliance is perhaps the biggest issue affecting pharmacy right now. It is a pharmacies task to help improve adherence and thus help their patients improve their quality of life moving forward". Caregivers will set the devices to dispense the correct dosages at the proper times, and ASA will digitally monitor the dispensers to track medication compliance. Noncompliance will trigger a signal at ASA's monitoring center and generate a follow-up phone call to the client or other appropriate action by ASA.
Matthew Couillard, ASA's Director of Consumer Relations, said, "By using our medication management systems, patients can decrease medication mistakes that can result in serious health problems. Moreover, studies have shown that medication non-compliance costs nearly $300 billion dollars a year in the United States in direct and indirect costs to the health care system."
Hometown is a market leader in Pittsburgh for providing medication adherence programs. Use of medication dispensers supplied by ASA, coupled with monitoring services through ASA's company-owned, state-of-the-art monitoring center, has resulted in vastly increased compliance rates for those with complex medication regimes. The two companies are joining forces to improve the health of the citizens of Pittsburgh where medication compliance is concerned.
For further information, please contact Matthew Couillard at 1.800.338.7114.