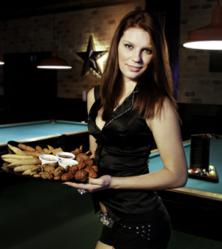 (PRWEB) March 22, 2013
Fast Eddie's Billiards thinks this should be a daily thing. That's why between 3 pm and 2 pm on Saturday March 23rd Fast Eddie's Billiards is celebrating little animals that are just too cute.
It's National Puppy Day and what better way to celebrate than helping local shelters who house puppies and other homeless pets. Drop by any one of Fast Eddie's locations and bring with you a sack of love. They need dog and cat food, KURANDA pet beds, old newspapers, squeaky toys -- you name it.
Fast Eddie's Billiards plans to fill a van and take the much needed supplies to the Lafayette Animal Aid and Lafayette Animal Control folks. These are people who do good work, finding loving homes for innocent little critters. But until the match is made in heaven, Lafayette Animal Aid and Lafayette Animal Control needs donations.
A healthy donation of cash will be fine as well. The shelters won't mind one bit going on a spree for their brood.
National Puppy Day is a special day, recognized on March 23rd annually, to celebrate the magic and unconditional love that puppies bring to each person's life. But more importantly, it's a day to help save orphaned puppies across the globe and educate the public about the horrors of puppy mills, as well as further the mission for a nation of puppy-free pet stores.
National Puppy Day was founded in 2006 by Pet Lifestyle Expert, Animal Behaviorist and Author, Colleen Paige, who is also the founder of National Dog Day and National Cat Day. This holiday, as well as others, are part of Colleen Paige's Animal Miracle Foundation & Network, a non-profit organization which offers financial assistance and educational programs ranging from pet cancer to fire safety and travel safety for kids and pets alike. AMF also hosts many wonderful holiday festivals and trade shows throughout each year and brings local shelter pets to these events hoping to find them a forever home.
Come by on Saturday, March 23rd at any of the Fast Eddie's Billiards locations to help keep the tiny critters playful until they find a good place to crash. Fill a van with toys and dog food, but know that the Lafayette Animal Aid and Lafayette Animal Control people wouldn't mind opening the back door of the vehicles and being showered with 20-dollar bills. Share that goodness, then make a toast with your buds. The proper phrase to use is "Long Live the Puppies (Note: Cat lovers are allowed to substitute Puppies for Kitties).
Fast Eddie's® Sports Tavern and Social Clubs
The standard of excellence was set back in 1998 when the first Fast Eddie's® Billiards and Sports Bar opened in San Antonio, TX. The image of the ideal Sports Tavern and Social club was born, through hard work, dedicated employees, and a most excellent following of customers. Now, Fast Eddie's® is proud to offer eighteen locations throughout Texas and two in Louisiana. From the border to the panhandle, Gulf Coast to the Red River, Cajun Country to the stars over West Texas, each location has its own, unique personality while still maintaining the superior level of quality that makes Fast Eddie's® famous.