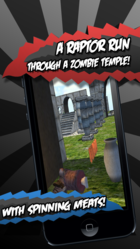 Looking at that spinning meat! It looks so tasty, I want to eat it! Super fun game! ~NotRonald
London, Ontario (PRWEB) March 21, 2013
Set in the year 2500 BC, this scientifically accurate game simulation begs the question. Did dinosaurs go extinct as earlier considered, or did they get eaten by zombies and Dodo birds? Raptors (AKA Angry Caveman Horses) are bigger and faster but can they withstand a Zombie attack?
As the Raptors approach the Zombie Temple they must employ skill and strategy not to get caught in a Zombie attack. Eradication of either species was never the question. Both sides are just out for the next meal where a cunning carnivore strategy may be all that's required to survive.
A raptor can smell a Zombie a mile away, and if cornered, resistance can be futile. Both sides are dangerous and playing the game will assure you that the Zombie Temple is no safe place. Spinning meats are merely a temptation and the Raptors use every trick in the book to outsmart their opponents. This game is endless meaty fun and one of Slightly Socials best to date.
This much anticipated game is great iPhone and iPad fun that keeps fans of anything Zombie coming back for more. Playing Raptor Race can really capture your attention. Getting high score will get you 200 pounds of raptor meat - while supplies last.
ITUNES DOWNLOAD LINK:
https://itunes.apple.com/ca/app/raptor-race-through-zombie/id600539623?mt=8
About:
Slightly Social a Mobile Gaming Company from Canada makes high end games for fun and friendly competition. We have the most talented and smartest team of gaming professionals in the business and have many games coming out in 2013.
Connect with Slightly Social on Facebook:
[https://www.facebook.com/slightlysocial
Check out our other games on our website:
http://SlightlySocial.com