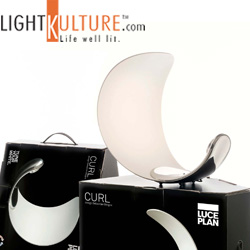 I was there for the launch of The Tizio, Bernice, Dove, and Archimoon. I have the same feeling about The CURL.
San Francisco, CA (PRWEB) March 26, 2013
LightKulture.com is pleased to offer the New CURL, 8 watt "tunable" accent light.. CURL is the latest innovation from London based designer Sebastian Bergne for LUCEPLAN. "CURL is a beautiful wave-like sculpture that transforms from art to light and back", noted Susan Inderbinen President of LightKulture.com. "The CURL is an exciting technical accomplishment in the form of an 8 watt LED light. The LUCEPLAN CURL enables the user to adjust, or tune, a phosphorous lense to create a color spectrum of light from a warm 2400 kelvin, to a cool 3500 Kelvin. The LED light shines up into the opaque technopolymer curved reflector, resulting in a striking ambient wave-shaped light sculpture. At the center of the die cast aluminum body is a small, touch-activated dimmer switch, which enables both a playful and artistic interaction between the light and the illuminator" noted Susan.
Sebastian Bergne is a graduate of the Royal College of Arts, and has designed a variety of consumer items since 1990. Before his collaboration with LUCEPLAN, he has designed products for numerous manufactures from around the world including Vitra. Bergne's work shows less of a signature style, rather, more of a quest for appropriate new solutions to diverse design problems. His achievements have been widely recognized with international design awards, frequent publications, and inclusion in the permanent collection in the Museum of Modern Art in New York, and the Design Museum of London. Collaborating with LUCEPLAN on this project is a natural extension of the LUCEPLAN design philosophy. The company has a history of experimentation, research and quality to create beautiful lighting ever since it was founded in 1978. In May 2010, LUCEPLAN became a part of Philips Consumer Lighting.
For more information, go to-
Luceplan http://www.lightkulture.com/m-18-luceplan.aspx
CURL by LUCEPLAN, Dimmable LED "Lets You Tune Your White", Now Available at LightKulture.com
"There have been times in my lighting career that I was present when a new lighting innovation was about to explode on the market. I was there for the launch of The Tizio, Bernice, Dove, and Archimoon. I have the same feeling about The CURL. This new design by Sebastian Bergne is not only stunning in its simplicity, it is a marvel for it's technology.We have had secret access to one of the few Curl samples in the US. All of our staff has commented on the simple beauty The CURL adds to a room. The simple one-touch dimmer lets you choose the color temperature along with the brightness to suit your mood, or the time of the day. We have even left it on overnight, the energy efficient 8 watt LED stays as cool. Sometime our office gets a lot of natural light during the day, but even with the light off, The CURL is a beautiful sculpture that adds an element of art to the room. Everything about this lamp is engenius, down to the triangular box it comes in. I'm predicting CURL will be the next lighting must-have. We are so happy to be working with LUCEPLAN on this launch" noted Susan.
About LightKulture.com
At LightKulture.com our mission is to offer the finest energy efficient contemporary lighting and light fixtures from around the world. We have assembled an exciting collection of the industries most innovative decorative and architectural lighting. We are proud to offer lighting solutions for both your home and work-life environments. Simplicity in design is complicated, function makes it last. Be inspired by our range of essential designs from well respected American and European manufacturers. In today's world, energy efficient lighting is as important as eco-friendly or green lighting fixtures, such as LED or CFL lighting. We offer the very best energy efficient lighting and light fixtures, both high value LED lighting fixtures and CFL lighting fixtures in modern and contemporary styles that provide quality, innovation and authenticity.
LightKulture.com
http://lightkulture.com
Email: sales(at)lightkulture(dot)com
Tel. 941-330-0422