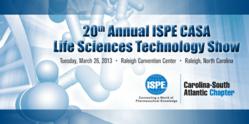 Raleigh area life science companies are hiring. Admission to the career fair is free.
Raleigh, NC (PRWEB) March 20, 2013
Joint ISPE Technology Conference and Life Sciences Career Fair
Free Career Fair open to the public! Share the news – bio and pharmaceutical companies are hiring. Visit the Life Sciences Career Fair at the Raleigh Convention Center on March 26, 2013 in conjunction with the 20th Annual ISPE Life Sciences Technology Conference. Career Fair will be open from 11:00 a.m. to 4:00 p.m.
Mingle with Pharma and BioPharma professionals while meeting directly with company recruiters and industry representatives in all areas of the Life Science industries. Admission to the Career Fair is free. Companies participating include Novartis, Novo Nordisk, Hospira, Eisai, Biogen Idec, Grifols, Merck, and more.
While at the career fair, don't miss the chance to learn about the industry at the ISPE Life Sciences Technology Conference, March 26, 2013, at the Raleigh Convention Center. With 200 exhibitors, biopharmaceutical professionals, broad-based educational sessions, and opportunities to view new technology and innovations, the program is exciting.
Events consist of educational sessions, keynote speaker (Bob Ingram – former CEO of Glaxo-Wellcome), industry subject matter experts, product demonstrations, and a networking party to meet with new and old contacts alike.
Complimentary breakfast, lunch, dinner and beverages will be served throughout the day. Register in advance for free parking and discounted rate. Admission to the full ISPE Life Sciences Technology Conference is $35 for ISPE members/$55 for general public through 3/21, then $55 for ISPE members/$75 for general public until the day of the show if you register in advance. Walk-up registration is $75 for everyone the day of the show. Conference registration includes educational sessions, food and beverages throughout the day, networking party, and access to all floor exhibits. For more information and to register, visit http://www.ispe-casa.org/2013.
About ISPE: ISPE Carolina-South Atlantic Chapter is a not-for-profit volunteer society of technical professionals who apply their practical knowledge in the regulated pharmaceutical and medical device manufacturing industries. The Chapter is committed to the advancement of the educational and technical efficiency of its nearly 1600 members through forums for the exchange of ideas and practical experience.
MEDIA CONTACT:
Amanda Wujcik
1500 Sunday Drive, Ste. 102
Raleigh, NC 27607
919-573-5442