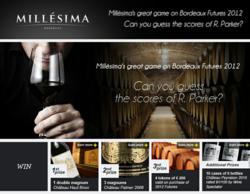 New York, NY (PRWEB) March 20, 2013
Wine Futures
Each spring, thousands of people converge in Bordeaux for the opening of the yearly Futures campaign. More than 200 properties welcome journalists, buyers, retailers, importers and other wine professionals from around the world to taste the latest vintage samples, freshly taken from their oak barrels. Prices are then announced by the properties to the negociants who buy the wines and act as ambassadors for the chateaux, making these great wines available to wine lovers and connoisseurs around the world. While the tradition is famous in the world of wine, it is perhaps less well known among the general public.
The Game
Duration of the game: March 19th to April 19th 2013. Just as an unchanging ritual for years, Robert Parker tasted all of the great wines of Bordeaux from 2012 (just recently put in barrels) and will release his scores at the end of April 2013. In the meantime, Millesima wants to give all Futures lovers their own chance to rate 12 Grands Crus Classes. The goal of the game is to give scores to the listed chateaux that correspond to those of the famous critic. 18 participants will win prestigious prizes.
This game will let people know when the grand crus are available for purchase and will give everyone the opportunity to win cases of wine or large format grand crus.
URL address to play: http://future2012game.millesima.com/
Millesima and Futures
Out of 400 accredited negociants in Bordeaux, Millesima has ranked among one of the oldest and largest buyers of Bordeaux Futures for nearly 30 years, with an annual average of 70 000 cases, or 840 000 bottles.
Guarantor of authentic quality products sourced directly from the chateaux and stored exclusively in our bicentenary cellar, Millesima delivers wine to 100 countries and about 70 000 clients, ensuring its role as an ambassador for fine wine—a status recognized by the largest properties in Bordeaux. Millesima guarantees delivery, and Futures orders are shipped just weeks after bottling takes place.
The biggest advantage of buying Futures is the price. Millesima offers a wide range of fine wines, available at exclusive prices before the wines are bottled two years later. Grands Crus also available in all formats: magnums, double-magnums, jeroboams or imperial.
Today, Futures are always controversial. Isn't tasting a wine just 6 months after the harvest too early to evaluate its qualities? The question has been raised by many wine professionals, and Millesima has also positioned itself as an advocate of "late futures" by organizing the now famous Futures Panorama Tasting—a tasting of wines "one year after" they are put in barrels.
Millesima has earned an excellent level of trust among its 70,000 customers. It stands out as a key player in the Place de Bordeaux not only offering great value for the purchase of wine Futures, but for offering an unparalleled selection of great wines. Moreover, this guarantee of reliability has been regularly echoed by the press.
Millesima USA LLC New York Fine Wine Merchant located in Manhattan Upper East Side at 1355 2nd Ave, New York, NY 10021.
http://www.millesima-usa.com
Facebook : http://www.facebook.com/millesima.usa
Twitter : https://twitter.com/millesimausa
YouTube : http://www.youtube.com/millesima/
Google Plus: https://plus.google.com/114309085970723426665