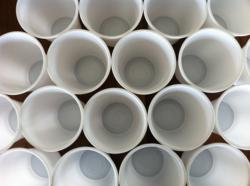 Art used to highlight global water issues
Canada, UK, US (PRWEB UK) 21 March 2013
The mosaic by Artist Serge Belo [1] is impressive as it emphasizes how vital clean and safe water is for life in a creative and exciting way. The BBC reports that 'the mosaic uses 66,000 cups of coloured rainwater'.(View here: http://www.bbc.co.uk/news/entertainment-arts-21798782). This is to inspire people to find out more about global water issues. Communities without access to clean water are dragged deeper and deeper into poverty and poor health. Governments, charities and local organizations must therefore work together to bring money, technology and knowledge to these communities to enable them to access safe water. Yet OneDrop (March 13) report that "The dry truth is that, while certain areas of the world are in need of access to safe drinking water, many local governments will not—or cannot—allocate the appropriate resources to remedy the situation". This is where local organizations, and their partners must work together to provide solutions." (Source: onedrop.org/en/UnderstandTheWaterCrisis/water-crisis.aspx)
NRG Expert provides detailed market research on the water markets across the globe to help these organizations find solutions and to give them the accurate energy statistics and information they need. While the artist Belo is highlighting how vital drinkable water is for life, NRG Expert are researching the water and sanitation markets in over 177 countries worldwide. NRG Expert's market research provides vital information to governments, charities and private water companies on water issues, water supply, water usage, water pollution and wastewater treatment methods.
Using the water statistics in NRG Expert's water resources database, companies can understand the complex economic situation and water utilities market in each region. The information provided by NRG Expert can help the global community to get a step closer to reaching the UN's ambitious safe water targets. The UN's Millennium Development Goals have set a target of reducing 'the proportion of people without sustainable access to safe water and sanitation' by half by 2015. This is indeed ambitious.
It is clear that to meet the growing demand for safe water and sanitation, more private investment will be needed. The share of private companies in the water and wastewater market is therefore forecast to increase from 8% of the global population in 2003 to 17% in 2015.
NRG Experts have recently published their Global Guide to Water and Waste Water Utilities Market Research Report. If Belo's amazing water mosaic has inspired you to find out more about global water issues and the worldwide water market contact NRG Expert.com
>> Click here to view the Global Guide to Water and Waste Water Utilities