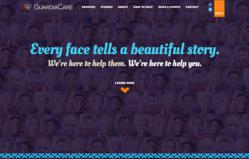 "Our goal was to build up their community recognition and give them the tools and training they need to be effective."
-- Alan Gilleo
Louisville, Kentucky (PRWEB) March 21, 2013
GuardiaCare launched their new website, GuardiaCare.org. A collaboration with agency partner LeapFrog Interactive, the new site represents a complete overhaul of the brand.
GuardiaCare's mission is to help seniors and people with disabilities live active, engaging lives. This sentiment is reinforced through real life stories of love and compassion, and captured in the new slogan "We're here to help them. We're here to help you."
The new site, along with a new brochure and trade show display, features beautiful, stylized photography of current and former clientele, which helps to create a positive and comforting emotional connection with seniors, the disabled and their families.
The website also helps visitors quickly access and identify the core services that GuardiaCare offers, including Adult Day Health Center, Care Management and Guardianship & Financial Services.
"LeapFrog wanted to help GuardiaCare take a huge step forward in the evolution of their brand," explains Alan Gilleo, Chief Creative Officer of LeapFrog Interactive. "Our goal was to build up their community recognition and give them the tools and training they need to be effective."
The new website will also help increase awareness of GuardiaCare among those who need their services, an important objective of the new marketing efforts. "GuardiaCare has played a unique role in helping seniors and adults with disabilities since 1969," said Executive Director Susan Smith. "Over the years, however, we had become less visible among the ever-increasing number of aging service providers. We realized we needed to elevate our presence to help everyone in metro-Louisville understand how GuardiaCare can help families cope with the issues of seniors and family members with disabilities."
GuardiaCare has long played an important role in helping Louisville's seniors and other physically and/or financially disabled adults live better lives. Now, thanks to the help of LeapFrog Interactive, this worthy organization will have a better opportunity to reach those who desperately need their services.
For more information about GuardiaCare and the services they provide, call 502-585-9949 or email info(at)guardiacare(dot)org.
About LeapFrog Interactive
Founded in 1999, LeapFrog Interactive Agency is a full-service digital agency offering a range of guidance to identify client needs and broaden strategic capabilities. Headquartered in Louisville, Kentucky, with a second office in Cincinnati, LFI offers clients access to capabilities in SEO, PPC, Social Media, Email Marketing, Mobile Marketing, Display Media, Media Buying / Planning, Digital Design, CMS, Website Development, Research and Analytics. Client list includes world-renowned names in the Food + Beverage, Consumer Product + Retail, Fashion + Entertainment, Healthcare and Financial Services industries. For more information, please visit http://www.leapfroginteractive.com.
About GuardiaCare
GuardiaCare Services, Inc. is a non-profit agency dedicated to promoting and supporting independent and stable lives for seniors and persons with disabilities. Since 1969, GuardiaCare has supported caregivers and helped prevent elder abuse throughout Metro Louisville. Programs and Services include Adult Day Health Center, Guardianship,Financial Management, Elder Life Navigator, and Caregiver Support.
# # #