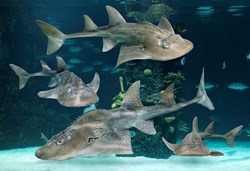 Newport, KY (PRWEB) March 20, 2013
Sweet Pea and Scooter have a few new friends joining them at the Newport Aquarium making it the only place in the world to have the largest collection of Shark Rays on display in the Surrounded by Sharks Exhibit.
Shark Rays Sunshine and Spike are joining the 385,000 gallon salt water tank to the delight of everyone at the Aquarium. A Shark Ray is closely related to sharks with shark-like dorsal fins and a flat, ray-like underside; however, it has human-like eyes that make it special. Shark Rays have a very calm, gentle gaze as they move gracefully through the water.
"We are thrilled to add more Shark Rays to our collection. This allows us to have more data available to use for our Shark Ray Breeding Program. While we are hoping there is some breeding activity, we are very excited to continue our research with Shark Rays and we have a great opportunity to do so," explained Chris Pierson, Husbandry Director.
Guests can learn more about all four Shark Rays during new dive shows in the remodeled Shark Ray Bay Theater also opening to the public this week.