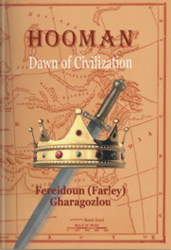 No matter where someone's family is from, there are common themes throughout the book," says Gharagozlou. "Patriotism is universal.
Los Angeles (PRWEB) March 21, 2013
Iranian-American author Fereidoun "Farley" Gharagozlou felt a pang of worry when he realized that his young granddaughter might never fully comprehend the rich heritage of her Iranian family. Inspired by this fear, Gharagozlou released his fictional book "Hooman: Dawn of Civilization" based in a historically accurate time period, highlighting the advanced society and lifestyles of ancient Iran.
"Hooman: Dawn of Civilization" tells the story of Hooman, a powerful and well-known military leader of the ancient Ariana army, who finds himself named king. Hooman is faced with issues of patriotism, conflict and love. The book is set in an ancient, pre-Persian period between 3,500 and 3,000 B.C. The story spans three generations of Ariana leadership.
While the story of Hooman is fictional, his surroundings are historically accurate. The book features the Mesopotamian, worldly contributions to communication, agriculture, military advancement, and infrastructure.
One topic in particular that the book sheds new meaning on is gender equality. According to Gharagozlou, ancient Persians were quite advanced and progressive in their treatment of women, even providing military training. Although the author acknowledges that gender equality has been a point of contention for centuries, this book offers a new perspective.
Gharagozlou took an interest in this time period because of his family history and heritage.