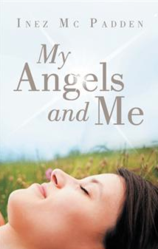 I want this book to be the first step to help people around the world to go on their own personal journey to find their life's purpose," said McPadden.
Dublin (PRWEB) March 21, 2013
First time author Inez McPadden releases her book, "My Angels and Me," on how everyone, especially women, can change their lives by acknowledging their "life's purpose," discovering the "gift" in adversity and always having hope.
McPadden is a wife and mother living in Ireland who understands the ups and downs of motherhood and womanhood. After experiencing difficulty, McPadden was divinely pushed to get this chapter of her life on paper to reach out to women across the world.
McPadden spent over four months in the hospital with her newborn; with that came the gift of clarity and meaning to her life. Once she learned she could call upon spiritual guidance, that is available to all of us, her life changed beyond recognition.
Her message is meant for everyone seeking hope, but particularly for women who are contemplating career, marriage and motherhood. McPadden suggests if women become aware of their life's purpose early on, heartbreak and struggle could be spared later in life.