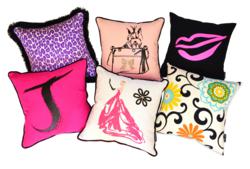 El Cerrito, California (PRWEB) March 21, 2013
Juma décor was formed in 2012 by two women who have dedicated their lives to the creative arts. Julie Johnson is an award winning fashion illustrator and Mala Mahlebashian is a published Interior Designer with a background in fashion photography. The women met at art school in San Francisco. Later, Julie left for New York City to work on a graduate degree from Parsons School of Design. Mala remained in San Francisco pursuing a career in commercial photography. Flash forward to 2011 when they reconnected, partnered creatively, and launched juma décor.
Realizing there were few home décor products for the tween and teen market, the two combined their talents to focus on fun, fashion-inspired bedroom décor. After careful study and interviews it was clear that girls preferred ideas and designs that were geared around their lives: from fashion to music to sports, and inbetween. Their goal is to create products that support teen/pre-teen identity, yet is fun, irreverent, modern and validates varied interests.
Teen and tween bedrooms and lockers are now a means of self-expression. Forget beige and pastels and bring on black mixed with exciting modern colors. Their rooms are a personal shrine to who they are, altars of their egos, a veritable diva hut!
Juma décor develops and designs pillows and wall decals for the young girl market. The company is headquartered in the San Francisco Bay Area. The website was launched in late 2012.
http://www.jumadecor.com. All products are Made in the U.S.A.