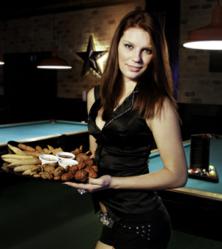 (PRWEB) March 21, 2013
Been to Cancun. Grown-out of Fort Walton Beach. Blasé over Lake Havasu. Hawaii sounds nice, but there is a day. Not worth it.
Wait a frackin' moment, heard that Fast Eddie's Billiards is having a Spring Break Luau at every location? It's this Saturday, March 23rd. Put on the hula skirts and Jimmy Buffett masks starting around 7 pm and virtually roast the pig until 2 am, just in time for church!
Since it's also National Puppy Day, we're going to loosen the grip on a few greenbacks for a good cause by offering a night of pool for chump change. Five bucks. All night. Billiards.
For lubrication, get this:
$4 Eddies Coladas
$3.75 Apple Martinis
$3.75 Cosmos
$3.75 Rum Punch
$1 draft beer
$2 tube shots
Hawaii, schmaii, Fast Eddie's Billiards can fix anything up. Just make sure to throw on that embarrassingly loud shirt with the flamingoes and turtles. A nice hula skirt, would help. Some lais and Mardi Gras beads.
And again, remember: This is National Puppy Day. By saving so much on airfare, throw a little in the direction of Lafayette Animal Aid and Lafayette Animal Control folks.
After all, beer for a buck? Come on big spender. Enjoy the Spring Break Luau at Fast Eddie's Billiards, get faced and help local shelters who house puppies and other homeless pets. Drop by any one of Fast Eddie's locations and bring with a sack of love.
The word of the night is "Aloha-ha-ha."
Fast Eddie's® Sports Tavern and Social Clubs
The standard of excellence was set back in 1998 when the first Fast Eddie's® Billiards and Sports Bar opened in San Antonio, TX. The image of the ideal Sports Tavern and Social club was born, through hard work, dedicated employees, and a most excellent following of customers. Now, Fast Eddie's® is proud to offer eighteen locations throughout Texas and two in Louisiana. From the border to the panhandle, Gulf Coast to the Red River, Cajun Country to the stars over West Texas, each location has its own, unique personality while still maintaining the superior level of quality that makes Fast Eddie's® famous.