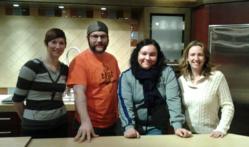 I really learned a lot from this course. It has taken me to the next level!
Evanston, IL (PRWEB) March 25, 2013
Now We're Cookin's Food Business 101 "boot camp" is part of its Food Business Incubator program, combining training, mentoring, seminars, shared commercial kitchens and access to a broad food community. The goal: to assist food entrepreneurs seeking to accelerate their path to business success.
For those who aren't quite ready to complete a business plan, the 2 hour Introduction to Food Entrepreneurship seminar will be offered on April 2nd at 6:00 pm, and monthly going forward. To sign up for either seminar, click here
The Incubator's continuing seminar program features upcoming sessions addressing Packaging and Labeling, Legal and Marketing and other food business related topics being announced regularly.
"Food Businesses in early stages achieve more with the addition of Mentors, training, and seminars focused on leveraging knowledge faster and easier" - Nell Funk- owner, Now We're Cookin'.
Applications for Incubator Membership are being accepted: contact kitchen(at)nwcookin(dot)com for additional information. For experienced professionals interested in participating as a Mentor, please contact Nell Funk at 847-570-4140 or info(at)nwcookin(dot)com.
About Now We're Cookin':
Now We're Cookin' is a culinary center promoting culinary entrepreneurship and innovative culinary events. http://nwcookin.com. Its commercial kitchens are home to small culinary enterprises and host to the new Food Business Incubator program which is structured to accelerate the progress of food business start-ups. In the exciting demonstration kitchen, Now We're Cookin's team of talented chefs conduct a wide range of cooking classes, host private parties and events as well as corporate team meetings, schedule celebrity chef demonstrations and welcome film/video production teams.