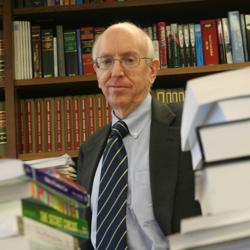 New York, NY (PRWEB) March 20, 2013
The legal news and information company Lawdragon Inc. is pleased to announce its new online editorial feature, "From the 500 Vault," which showcases photographs from its seven years of production of Lawdragon Magazine and its annual guide of the Lawdragon 500 Leading Lawyers in America. 
Each week, a photo from Lawdragon's archive of more than 10,000 attorney photographs will be presented on Lawdragon.com, with a brief description of the photo shoot and its place in Lawdragon history. The Vault series joins the popular online Q&A series, the "Lawyer Limelight," as the core of Lawdragon's web content highlighting interesting legal news and world-class attorneys.
Early highlights "From the 500 Vault" include Judge Richard Posner of the 7th U.S. Circuit Court of Appeals in Chicago; Hollywood legal legend Bert Fields; Florida plaintiffs' attorney Steve Yerrid in Florida; Supreme Court litigator Maureen Mahoney of Latham & Watkins in Washington, D.C.; and powerhouse litigation couple Thomas Moore and Judith Livingston of Kramer Dillof in New York. This week's From the 500 Vault features Brad Brian of Munger Tolles, who is currently defending Transocean in the BP Spill litigation in New Orleans.
Lawdragon has published its acclaimed digital and print Magazine and Lawdragon 500 guides since its founding in 2005. For each issue, staff and contributing photographers have photographed many of the nation's prominent attorneys across a diverse range of settings, including offices, courtrooms, outdoor city settings, fishing trips, rural farms and attorney homes in each region of the country - creating an unrivaled photo-journalistic library of the American legal profession.
About Lawdragon:
Lawdragon is a fast-growing new media company that offers a unique platform for lawyers to reach consumers. In addition to attorney guides such as the Lawdragon 500 Leading Lawyers in America, the website provides free legal news and features as well as a searchable database of legal professionals that includes online profiles of attorneys and firms. Attorneys can add their professional listing for free and upgrade to a premium profile to better showcase their practices. Visitors can view these listings for free when searching for lawyers, and they can also choose to evaluate listed professionals.
Contact:
John Ryan
Editor-in-Chief
john(at)lawdragon(dot)com
cell: 213-446-3726