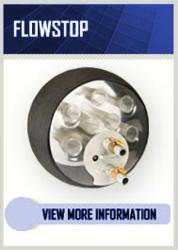 FlowStop is an environmentally friendly system that controls contaminated fluids more rapidly and effectively than anything else available. It's a valuable asset to any emergency operations team.
Denver, North Carolina (PRWEB) March 27, 2013
When dangerous accidents happen, FlowStop handles spill control, containment and remediation more quickly and effectively than any previously available solution. It's a unique inflatable pipe plug designed to manage flow control, spill response and the evacuation or flushing of hazardous liquids. It also simplifies drain line maintenance.
FlowStop has been approved for purchase under certain FEMA preparedness grants. To help apply for those grants, FlowStop has prepared a free guide, FEMA Grant-Writing Success Tips, designed for fire departments, HazMat teams, emergency crews and other first-responders.
The patented FlowStop design includes single and dual 2 inch flow-through ports for serving non-pressurized pipes. The FlowStop models not only arrest unwanted contaminants in storm drains. They also turn the storm drain into a containment tool – thereby simplifying the control and remediation process!
"We created our new Guide to help first responders and municipalities access FlowStop through available FEMA Grants," says Perry Beaty, president of the product's manufacturer, Logos Inc. "FlowStop is light weight, compact and simple to use. The innovative design technology includes Thermo PolyUrethane construction which, unlike rubber, won't gum up or eat through the plug -- and is impervious to hydrocarbons and 99% of known chemicals! There's nothing else like this on the market!"
The FlowStop units combine to contain contaminants in pipes from 12 to 48 inches. All models are housed in a waterproof, weather-resistant case containing all the components necessary for quick and easy operation. In addition, there's a new
Mechanical Minis series enabling containment teams to now plug smaller pipes of just 10", 8" or 6". There's no assembly required. Simply install the plug and it's ready for deployment – with no inflation needed.
The ball valves and transfer tubes built inside FlowStop's inflatable plug are the unique design features that ensure rapid containment with every use. "Each unit's transparent front and rear flanges allow for easy viewing to determine fluid levels," adds Beaty. "That's a significant time-saver when coping with emergency situations."
The durable FlowStop unit also simplifies the maintenance process for water and sewer utilities, pumper crews and other maintenance personnel working with storm water drain pipes and sewer lines. FlowStop's easy-mobility features make it a real plus for confined entry situations such as collection boxes and manholes.
"FlowStop is a powerful, environmentally friendly system that is economically sound," says Beaty. "Its ease of operation speeds the entire process, controlling contaminated fluids more rapidly and more effectively than anything else available. It's a valuable asset to any hazmat or emergency operations team."
About FlowStop
FlowStop is designed and manufactured by Logos, Inc. specialists in the control and containment of storm drain contamination. Based in Denver, North Carolina, the company's technical expertise and broad range of industry experience was instrumental in designing FlowStop for quick deployment to meet any containment and remediation challenge. FlowStop is listed a a resource on FEMA's Responder Knowledge Base.
For more information, including a step-by-step video of FlowStop in action, visit http://www.flowstop.net or call 877 356-9767.