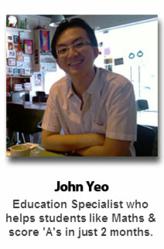 Once I'm able to sieve out the hidden strengths of a student, I empower him when he feels like he's in the darkest moment (of failing maths).
Singapore (PRWEB) March 20, 2013
The local parenthood forums are flocked with discussion on how to improve maths for PSLE. There appears to be no lack of demand for recommended PSLE maths tutors, as parents can be seen sharing maths questions with one another in hopes of exposing their children to more questions so as to perform better during the actual exam.
But what happens when one's child feels intimated by the subject itself?
That's where John Yeo intends to come in. Preferring to go by the title of an Education Specialist instead of a PSLE maths tutor, Yeo claims on his website that he only helps students who have been failing the subject. So far, he has not failed in his commitment to help students score a distinction in maths during their PSLE maths paper.
Parents who engage Yeo's help and expect that their child will dive straight into tackling challenging maths questions during the first session will be disappointed. Yeo prefers to get into the root of the problem and address deeper issues that cause the failure.
"During my first session, I work on the mental state of the student. My goal is to understand how this student see maths and feels about it," says Yeo, who believes his strength lies in engaging a child.
This rapport between Yeo and his student eventually allows him to find out what sort of support the student has at home as he believes strongly in teamwork between parent(s) and the tutor.
"Once I'm able to sieve out the hidden strengths of a student, I empower him when he feels like he's in the darkest moment (of failing maths). That's how I think I am able help my students overcome their psychological barrier towards the subject and score well," explains the Education Specialist who has a counseling background.
So how receptive are parents towards Yeo's unique "Learning Out of the Box" approach?
"By the time parents seek my help, they have most likely already sought the help of other tutors whom they found were not effective. Thus, by the time they come to me they are usually more receptive to my idea as they feel that it's a fresh point of view," says Yeo.
On his website, a testimonial by a parent states that she was "pleasantly surprised and very happy that her (child's) score was a big jump." This was a feedback after the student improved greatly to 70 marks after one session with Yeo. The student was known to hover between the 30 to 40 marks range before she engaged Yeo's help.
Yeo currently has at least 10 testimonials on his website to vouch for his competence. Knowing that he has truly helped his students and receiving positive feedback is what keeps him going. But does he feel that there may be exceptional cases?
"My goal for 2013 is to help more students do well in the subject and maintain my 100% track record of helping students go from a fail in PSLE maths to at least a B during the important exam." With such confidence and a proven track record, anxious parents can surely entrust their children to Yeo.
To learn more about Yeo's learning philosophy, parents and students can sign up here for more information.