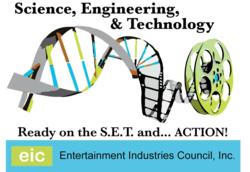 EIC works tirelessly to encourage entertainers and media to create messaging that inspires future innovators and we are proud to work with them to get our listeners thinking about the great possibilities.
--Pat Fant, COO, RFC Media
Houston, TX (PRWEB) March 19, 2013
The Entertainment Industries Council, Inc. (EIC) and Third Rock Radio are breaking the "cool" barrier with Brittney Exline, the nation's youngest African-American and female engineer. Brittney's interview on Third Rock Radio, airing today, shares the power of engineering with listeners across the globe, combining the power of music and talk radio to raise awareness about the importance of science, engineering and technology in our world.
"Brittney recently joined EIC's First Draft Technical Assistance program, providing expert information to writers and other creatives in the entertainment industry. Her ability to encourage young people, women in particular, to learn more about science, engineering and technology careers is inspirational," said Brian Dyak, President and CEO of EIC
"At Third Rock Radio, our Music Explorers spotlight the best New Rock I Alternative artists worldwide helping to cultivate with listeners a deeper interest in science, technology, engineering and math. EIC works tirelessly to encourage entertainers and media to create messaging that inspires future innovators and we are proud to work with them to get our listeners thinking about the great possibilities," said Pat Fant, COO, RFC Media.
The exclusive interview with Brittney Exline can be heard at http://thirdrockradio.rfcmedia.com/
To learn more about EIC's initiative for science, engineering and technology, Ready on the S.E.T. and…Action!, go to http://www.eiconline.org/readyontheset
About Entertainment Industries Council
EIC is a non-profit organization founded in 1983 by leaders within the entertainment industry to bring their power and influence to bear on communication about health and social issues. The organization is considered to be the chief pioneer of entertainment and journalism outreach and a premiere success story in the field of entertainment education. This mission relies on providing resource information to the creative community and culminates in recognition of the industry through the national television special PRISM Awards Showcase which addresses accurate portrayals of substance use issues and mental health concerns. The organization also produces the S.E.T Awards, honoring positive and non-stereotypical portrayals of science, engineering and technology.
For a complete list of health and social issues addressed by EIC and local projects please visit First Draft and EIC's website. EIC's web site is http://www.eiconline.org. The PRISM Awards web site is http://www.prismawards.com.
About Third Rock Radio
Produced under a Space Act Agreement with NASA, Third Rock Radio is on purpose digital media that carries a payload for science, engineering and technology. NASA's Third Rock Radio streams live 24/7 from nasa.gov with a mix of New Rock I Indie I Alternative to help make science cool and cultivate a deeper interest in education for younger Americans. It's radio, music and a mission all in one.