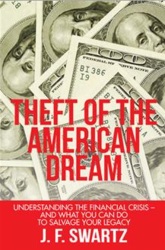 As distressing and depressing as the truth is regarding the ongoing, systemic failure of the US dollar, there is certainly a way out for those who prepare correctly.
Leesburg, VA (PRWEB) March 21, 2013
Author J.F. Swartz's new book, "Theft of the American Dream", paints a dire picture of the current US financial circumstances that will have a negative affect on every citizen.
"Theft of the American Dream" explains US fiscal and monetary policies that have led to a systemic financial crisis. Swartz explains why the fiscal cliff solutions are not addressing the real problem, and why the result will be hyperinflation of consumer prices.
Swartz provides readers with many strategies on how to achieve financial self-sufficiency in an easy-to-understand way. It also provides a resource syllabus for the self-education of readers.