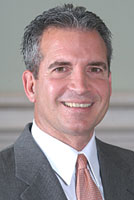 Ridgefield, CT (PRWEB) March 20, 2013
Richard P Hastings, a personal injury lawyer with the Connecticut firm of Hastings, Cohan and Walsh, LLP has just received provisional patent pending protection on his business method entitled "Personal Injury File Acquisition Method, Client Education Program and Client Referral System," which has been filed with the U.S. patent and trademark office.
This unique and comprehensive business method allows smaller personal injury firms to compete with large firms who spent considerable sums of money on acquiring clients by offering them a unique selling proposition and calls to action. The system allows personal injury lawyers to convert information seekers to new clients as a result of a number of different methodologies which include ebooks, soft cover books and workbooks, a drip campaign with instructional information and special reports and a system of acquiring clients through targeted referral sources.
Personal injury lawyers are always looking for new and innovative ways to acquire new personal injury clients, educate their clients as to how to get better quicker and how to help their attorney get more money for their case. The patent pending Personal Injury File Acquisition Method, Client Education Program and Case Referral System does all of these things as well as it teaches the personal injury attorney's client how to refer new clients to the attorney and finally it provides the personal injury lawyers with a system on how they can develop a referral system of new business from professional and trade people.
People who conduct online research or who are seeking an accident or injury lawyer generally are looking for information about a specific personal injury matter. It is imperative that a personal injury lawyer's website contain practical information of a helpful nature while simultaneously offering a strong call to action that converts information seekers to clients. The system can be licensed by contacting Attorney Hastings at http://www.HCWLAW.com or by calling him at 888-842-8466.
Attorney Hastings has been practicing personal injury law for almost three decades. He has been named a Connecticut Super Lawyer and a New England Super Lawyer, limited to the top 5% of all lawyers in the field of personal injury. He has been recognized as one of the Top 100 Trial Lawyers in Connecticut by the National Trial Lawyers Association. He is a member of the Million Dollar Advocates Forum, is rated AV by Martindale and is listed in its prestigious Bar Registry of Preeminent Lawyers. He is rated 10.0 Superb by AVVO. He has written 12 books on a variety of subjects ranging from medical malpractice to personal injury. One of the books that he co-authored, went to number one on Amazon.com, on its launch date. He is also the co-author of Adjuster Secrets: Attorney and Adjuster Tips and Techniques That Guarantee Larger Settlements which is an e-book that has been sold to personal injury attorneys nationally for as much as $799.99. He is a member of the National Academy of Best-Selling Authors and America's Premier Experts. He also holds another provisional patent for a business method that is on file with the U.S. Patent and Trademark Office.