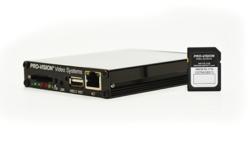 the PRO-VISION solid state video recording system allows administrators to stop guessing about what occurs on and around their transit vehicles
Uncasville, Conn. (PRWEB) March 21, 2013
PRO-VISION Video Systems will be attending the DATTCO Expo 2013 on March 28th at the Mohegan Sun Resort in Uncasville, CT. PRO-VISION will have on display their entire line-up of transit and school bus solid state video recording systems in an effort to increase safety and reduce liability in transportation vehicles along the East Coast.
As the season of slick streets and icy highways continues in the Northeast, the PRO-VISION solid state video recording system allows administrators to stop guessing about what occurs on and around their transit vehicles and school buses every day. The continuous recording DVR acts like a "black box" for the transit industry, allowing each incident to be reviewed and evaluated through high quality HD video and audio. The solid state design ensures exceptional recording quality without the risk of using moving parts or hard drives which can break or fail.
Check PRO-VISION out at booth #86 on March 28 at the Mohegan Sun Resort in Uncasville, CT.
About PRO-VISION – In 2003, PRO-VISION was incorporated and started by supplying back-up camera systems. 2005 marked their entry into the School Bus market. By 2009, PRO-VISION had entered the Commercial Recording System market, released 4 Camera School Bus Systems, and allowed for Live Video Viewing and Video File Transfer. By 2011, the company had expanded into a 240% larger facility and entered the law enforcement recording system market. The company has expanded to the international market selling systems into countries such as South Africa, Great Britain, Australia, Mexico, and Brazil to name a few. PRO-VISION is ranked in the top 100 manufacturing firms on the Inc. 5000 list of fastest-growing private companies in America for 2012, and also earned a spot on the list in 2011.