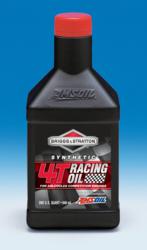 Superior, WI (PRWEB) March 20, 2013
In early 2012 Briggs & Stratton chose AMSOIL INC. to develop a synthetic motor oil formulated especially for the stock and modified small-displacement air-cooled racing engines used in kart, junior drag, quarter midget and other racing applications. Briggs & Stratton Synthetic 4T Racing Oil is now available through all AMSOIL distribution channels, including participating retail outlets and the AMSOIL online store at http://www.amsoil.com.
4T Racing Oil is recommended for any four-stroke air-cooled competition engine, whether single- or multi-cylinder, splash- or pressure-lubricated. Combining the protection qualities of a heavy oil with the performance benefits of a light oil, Synthetic 4T Racing Oil helps racers gain maximum horsepower and long engine life. It provides outstanding protection in both stock karts and limited-mod kart applications running over 10,000 rpm, with no sacrifice in horsepower.
Racers using competing oils need both a light and a medium oil to achieve a similar combination of protection and horsepower. Synthetic 4T Racing Oil has been dyno-tested using the Briggs & Stratton Animal engine, and proven to provide outstanding performance in the most extreme conditions possible. This premium oil effectively resists the elevated heat common to high performance racing engines. It also protects against the formation of corrosion between races and during longer storage periods.
Briggs & Stratton is the world's largest small-engine manufacturer.
AMSOIL has been the recognized leader in synthetic lubrication since 1972. For more information about Synthetic 4T Racing Oil visit amsoil.com/Briggs, or call AMSOIL at (715) 392-7101 or 1-800-777-8491. AMSOIL INC., AMSOIL Building, Superior, WI 54880.
News contact: Ed Newman
Advertising
info(at)amsoil(dot)com
715-392-7101