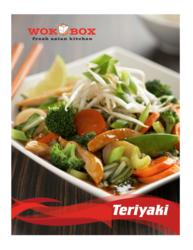 Wok Box is dedicated to joining customers in improving their lifestyles
Phoenix, Arizona (PRWEB) March 20, 2013
Seeing the National food service trends of high fat, high sodium, and high sugar menu items, Wok Box's executive management team has been working extensively with industry professionals and its key sauce supplier, Kettle & Foods Kitchen, to create healthy options on its' menu. Wok Box has achieved lower sodium content in many of its sauces and can offer gluten friendly/wheat-free products for customers suffering from Celiac's disease, a condition that causes people difficulty in digesting gluten. These changes will immediately impact the menus at all Wok Box locations.
The results of this R&D work to Wok Box's menu, some of which are highlighted through the Canadian Heart and Stroke Foundation's "Health Check" program, meet low-sodium, fat and cholesterol criteria. In each restaurant a menu matrix leads customers to select dishes that meet their individual nutritional and dietary needs.
"The Wok Box brand is built on several key values including exceptional service, great product, and a great atmosphere. We recognize that customers are demanding healthier items from their restaurants and more transparency into what they are eating. We believe we are an industry leader in these respects," says Director and Chief Financial Officer Lawrence Eade.
Since 2010, when Wok Box partnered with Kettle & Foods Kitchen, they have been able to effectively eliminate gluten in 30% of its sauces, lower sodium by over 20% in most sauces, and completely eliminate MSG, all while not using any after-market additives or preservatives. These improvements come to a menu already serving no trans-fats, vegetarian and vegan options.
"Wok Box is dedicated to joining customers in improving their lifestyles and the completion of this work only supports that effort," Eade explains. "Are all our dishes the epitome of health? No, we have the guilty pleasure items too. But we don't hide the healthier items at the back of the menu either. Now, a Teriyaki Chicken Rice Box or Kung Pao Noodle Box, both of which are packed with over 18 oz of protein, vegetables, sauce and rice or noodles, and are one of two of our most popular dishes, contain between 750-900 mg of sodium and ~2 g of fat, none of which is saturated fat. Compare those numbers to other leading burger brands, whose burgers are under half the portion size of what we offer and contain many times more fat and salt, and it says something about our commitment to our customers health."
Wok Box's simple but extensive menu features flavors from all over Asian, including fresh and delicious noodle dishes, curries, stirfry, and banh mi sandwiches influenced by the flavors of Thailand, Malaysia, Singapore, Korea, China, India, and Vietnam.
Wok Box was founded in Edmonton, Alberta in 2005 and has 64 franchises in the United States, Canada, and the Middle East. Wok Box is currently open in Hillsboro, Oregon, and Scottsdale, Arizona, with further locations scheduled to open in Dallas, Houston, Tyler Texas, Phoenix, and Portland this year.