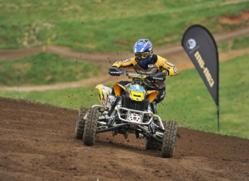 It's great to have MotoSport.com on board for 2013!
Tualatin, Oregon (PRWEB) March 21, 2013
MotoSport.com is a long-time supporter of ATV racing and stood behind many impressive and hard working riders over the years. We're always looking out for good opportunities to continue this effort. John Natalie, Jr.'s involvement with ATV racing spans more than 20 years. His dedication is without question as he's won countless races including several Championships. His 2012 team is dissolved but his passion for racing remains unquenched. He wants to be back on the track this year.
It should then come as no surprise: Introducing the MotoSport.com/Motoworks/DWT ATV MX Racing Team.
Fielded by Team MotoSport.com/Motoworks/DWT and piloting a Honda TRX450R, Natalie's involvement in all 10 rounds of the series encompasses events in the Eastern and Mid-Western U.S, starting on March 23 at Aonia Pass MX Park in Washington, Georgia. Throughout the season, the team may add racers currently under the tutelage of Natalie at select events, dependent on conditions. Make no mistake, Natalie is the star of this show and we will work hard to keep him at the front all year.
"It's great to have MotoSport.com on board for 2013!" exclaimed Natalie. "We've worked well with them before. ATV racing is expensive, and there is no factory support and few sponsors, so it is good that MotoSport cares about ATV racing and the people who do it, and supports them like no other. With them, we know we have a friend behind us in our efforts who will be there when we need them. We are looking forward to bigger and better things and we hope to bring more recognition to MotoSport and that they will do the same for our team."
Bill Butcher, founder and CEO of MotoSport.com, said, "We have long been proud to be a part of ATV racing, and we are very happy to have joined with a professional racer who has had great success in the sport and who brings with him a strong desire to win races. Everyone sees that in John Natalie, and the 2013 ATV MX Championship will be far more thrilling with him in it and especially with him on our team."
Dee Manshack, a longtime friend, mechanic and engine builder for Natalie, is pit support. He also owns and operates Rage ATV Racing. Fred Reiser, a skilled mechanic and good friend, handles the wrench.
The team is set, the business is done, and the crew is in place. The MotoSport.com/Motoworks/DWT race team is ready to go. Seeing is believing, so tune in to the 2013 Mountain Dew AMA ATV MX National Championship and cheer for John Natalie, Jr. MotoSport.com certainly will!
About MotoSport.com
Bull Butcher started MotoSport.com after racing in the 1970s and 1980s and being unable to find a place with an expansive supply of parts and accessories without the hassles and limitations of a dealership.
Today, MotoSport is an industry leader focused on providing customers with parts they need, when they need them. We are one of the fastest growing retailers of power sports apparel, parts and accessories on the Internet. From the starting line to the checkered flag, MotoSport.com is dedicated to provide the best experience, anytime, anywhere. Check us out online at MotoSport.com or call 1-888-676-8853 and join the best customers in the industry.
John Natalie, Jr. and MotoSport.com would both like to thank all sponsors of the 2013 MotoSport.com/Motoworks/DWT team: Motoworks Exhaust, DWT Racing, Rage ATV Racing, Root River Racing, Custom Axis Racing Shocks, ATV Four Play, Streamline Performance Braking, Redline Performance Machines (RPM), FTR Powersports Graphics, Honda East Toledo, Precision Racing Products, Pro Armor, Hinson Clutch Components, and Krause Racing's Sidewinder Products.