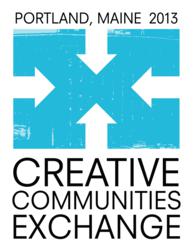 Cities and towns across New England have been working hard in recent years to boost local economies and strengthen communities by leveraging creative assets
Boston, MA & Portland, ME (PRWEB) March 20, 2013
Creative Portland of Portland, ME, and the New England Foundation for the Arts of Boston, MA, will host the Creative Communities Exchange (CCX), a major regional event showcasing dozens of creative economy projects from throughout New England, on June 6-7, 2013, in Portland, ME.
The Creative Communities Exchange offers workshops led by creative and cultural community leaders showcasing model projects in creative economy work at the local level. The gathering promises a dynamic setting for peer-to-peer learning and networking, and builds upon two previous creative economy events held in the Berkshires, MA, in 2011 and Providence, RI, in 2009, both co-hosted by NEFA with local partners.
"Cities and towns across New England have been working hard in recent years to boost local economies and strengthen communities by leveraging creative assets," said Jennifer Hutchins, executive director of Creative Portland. "This is the perfect opportunity for Maine to co-host this event – in the midst of Portland's arts and creative district."
The CCX will culminate with the recognition of two outstanding creative economy projects selected for NEFA's Creative Economy award as part of the closing ceremony on Friday afternoon. This cash award was created to recognize excellence in cultural community building. "Successful creative economy projects, in all their variety, have one thing in common: strong local support," said NEFA executive director Rebecca Blunk. "We are happy to bring recognition to two such projects, each exemplifying partnership, vision, and accomplishment."
Registration is $80 through May 6 and $100 after. Scholarships are available; deadline to apply is April 8, 2013 with notifications made by mid-April. For details, visit http://www.CCXNewEngland.org.
CCX 2013 is made possible with lead support from the Surdna Foundation and with additional support from Garrand, Sea Bags, and Designtex, and media sponsorship from Down East magazine. Additional support for planning is from the Maine Center for Creativity and the Greater Portland Convention & Visitors Bureau.
About Creative Portland
Creative Portland is a nonprofit organization that leverages, grows and sustains Portland's creative industries, enterprises and workforce. As the City's official local arts agency, we also pay particular attention to supporting the artists and cultural institutions that are central to Portland's identity, economy and community. http://www.creativeportland.com.
About NEFA
NEFA creatively supports the movement of people, ideas, and resources in the arts within New England and beyond, makes vital connections between artists and communities, and builds the strength, knowledge, and leadership of the creative sector. NEFA is a nonprofit that operates with funding from the National Endowment for the Arts, the New England state arts agencies, and from corporations, foundations and individuals. http://www.nefa.org.