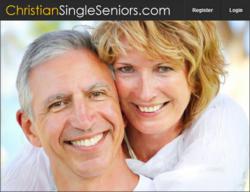 ...one out of every five new relationships begins thanks to an online dating site.
Torrance, CA (PRWEB) March 21, 2013
With the majestic warmth of spring and its bevy of natural wonders just over the horizon, senior dating site ChristianSingleSeniors.com is reporting tremendous growth, as its popularity amongst the senior circuit continues on an upward swing.
"Such spikes in activity aren't totally uncommon," says Olga Wright, a spokesperson for the senior dating site, which belongs to an online network of sites actives since the late 1990s. "Like we see in animals, cold winters often account for a hibernation-like period in people. With the coming of warmer weather, there's an invigoration to get out of the house, so new clients are eager to sign up and make a connection."
More specific to the nature of ChristianSingleSeniors.com, another cause of the increase in site membership might lie in the users' religious convictions. "Easter is a holiday of tremendous importance to our users' faith," says Wright, "Being able to share this special day with others of similar beliefs is comforting, as the holiday represents a resurrection of spirit."
Also linked to the increased traffic for the site is what Wright describes as the more unfortunate reasons for senior dating: death and divorce. "The results of losing a partner during the senior years can be even more dramatic than earlier life," says Wright. "Our clients may have not been alone in decades, so to have to endure the thought of loneliness can be extremely hard. The brighter side of this is that senior dating allows users to meet others who may have experienced a similar situation and that is of tremendous comfort."
The senior dating site's news comes on the heels of a study conducted by researchers at Bowling Green University that determined that those in their golden years are becoming increasingly more comfortable with dating and are using modern technologies to their advantage to do so. "Our clients may be older," says company Wright, "But that simply accounts for physicality. When it comes to mind, heart and spirit, users are remarkably limber and extremely adept at today's technology."
Wright is quick to point out that although the popularity of senior dating might seem noteworthy right now, it is quickly becoming a common phenomenon that will soon be second nature. "One report suggests that one out of every five new relationships begins thanks to an online dating site," says Wright. "Those who were born at the height of the baby boom in the mid-20th century are entering their senior years. As we reach that point where everyone is well versed in computers and the World Wide Web, senior dating by way of online methods will surely become the norm in how bonds are formed."
About ChristianSingleSeniors.com
Part of a leading Christian dating network established in 1997, ChristianSingleSeniors.com is unique in its approach: all of its members are committed to seeking out long-term, faithful relationships. Unlike most dating sites, this senior dating service does not allow casual dating. The sites of this Christian online dating community have gained great popularity and are frequented by Christians from all over the world. An approved member of the BBB online Reliability Program, Christian Singles Commitments Corp is committed to providing safe and secure online dating.