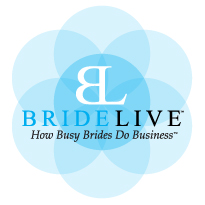 Since the majority of our brides and clients are in their twenties, using technology is second nature to them and provides more convenience.
Los Angeles, CA (PRWEB) March 20, 2013
BrideLive, a leading provider of virtual meeting solutions designed for the wedding and event industries, recently added Generations DJs to their rapidly growing list of clients.
Based out of North Carolina, Generations DJs is a mobile DJ company providing top of the line entertainment services for weddings and events. Their goal is to provide their clients with an experience that every attendee will remember forever. When asked why they chose BrideLive as an alternative communication tool to offer their clients, Irene Flannelly, Owner of Generations DJs stated, "We signed on with BrideLive for several reasons. For one, we are in a relatively rural area and in order to get to the numbers we wanted, we had to expand our geographic sphere of influence. We were concerned that clients would be less inclined to travel to the office for consultations. BrideLive provided a solution to that problem."
Since its launch in 2011, BrideLive has been using its web-based virtual meeting software to help wedding and event professionals across the globe cater to the needs of the modern bride. BrideLive offers tools like built-in VoIP, interactive floor plan builders, instant file sharing and more. Two of the tools Generations DJs will benefit the most from are the web-based meeting recorder and the notepad feature. "Since the majority of our brides and clients are in their twenties, using technology is second nature to them and provides more convenience. Furthermore, we are a multi-op and BrideLive's technology gives us the ability to conduct several meetings at once; and the mobile device app makes it even simpler for the consultant to get DJs and other vendors involved," Flannelly went on to say.
"We are so excited to have Generations DJs as one of our new clients. BrideLive simply makes sense for those who want to expand their reach and be easily accessible to attract more brides nationally and globally," stated Jay Thomson, Co-founder of BrideLive.
About BrideLive
Headquartered in Sherman Oaks, California and based on technology that has been in development and commercial production for over nine years, BrideLive.com launched in 2011 as a custom software company and is frequently recognized for its rapid sustained growth, product excellence, and superb multi-media user interface. Through their cutting-edge technology BrideLive.com has been able to provide a web-based virtual meeting space used by wedding planners, photographers, DJs, florists and other professionals in the wedding industry who wish to leverage the power of online, personalized meetings to convert leads, grow sales, and save time. BrideLive offers mobile apps for iOS and Android users, making its state-of-the-art solutions easily accessible via iPhones, iPads, as well as all Android enabled tablets and smartphones.
For more information on BrideLive.com please visit http://www.bridelive.com or call 888.300.8359.