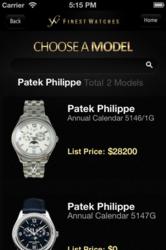 The app is quickly morphing into a celebrity trend spotting tool
Encino, CA (PRWEB) March 19, 2013
Did you know that Jennifer Aniston wears a Rolex, Day-Date President? Or that Mark Wahlberg wears a Rolex, GMT-Master II? Well now "there's an App for that." Finest Watches, a watch retailer and wholesaler based in Encino, California, has released an Apple iPhone app that contains, not only a catalog of the company's high-end watch offerings, but also celebrity photos beneath the watches owned by the celebrities.
While originally developed as a helpful tool when shopping for a rare timepiece, or to learn more about the world of high-end collectible watches, the app is quickly morphing into a celebrity trend spotting tool.
Among the celebrities spotted wearing their favorite watches: Lebron James and Jay Z wearing a Royal Oak Offshore. Brad Pitt wearing both, a Rolex Submariner and a Patek Philippe Nautilus. Ellen Degeneres, Hayden Panettiere, Sandra Bullock, Khloe Kardashian, Brad Pitt. Steven Tyler and Sean Combs all wearing a Rolex Cosmograph Daytona. Shia Labeouf wearing a IWC Portuguese Perpetual Calendar. Leonardo Dicaprio wearing a Master Minute Repeater. And these are just a few of the many celebrity photos.
Celebrity trends are big business and there is no question as to whether or not celebrity endorsements work. The basic idea of an endorsement is pretty simple. People like celebrities. If those celebrities say that they like a product, or in this case wear a particular watch, people will like that product, to. So, what accounts for this celebrity effect? Endorsements could be a signal of quality -- but the modern consumer is sophisticated. They know money's changing hands. At a deeper level, we seem to crave connection to the famous and the powerful.
Finestwatches.com is no stranger to dealing with celebrities, foreign dignitaries, high-profile clients or ultra expensive watches. Known as a "go to" company for high-end timepieces, one of the most expensive pieces the company has dealt with is the Patek Philippe 5002P in platinum, which market value is somewhere in the $1.6 million range.
Some of the other Finestwatches.com iPhone App features are:
Information and pricing on high-end watch brands
A Horology Blog covering a wide range of topics ranging from exciting innovations in watch making, to other related watch business news.
Pictures of watches with descriptions and featured display
While keeping up with celebrity trends is fun, the finestwatches.com app is designed for the watch connoisseur and collector of fine timepieces. The app is available for free from the Apple App store and can be downloaded here.
About FinestWatches.com
Finest Watches is a watch retailer and wholesaler based in Encino, California, USA. The company buys, sells and trades both new and pre-owned watches from a vast network of suppliers, dealers and collectors worldwide. Founded in 1999, Finest Watches' mission is to provide quality watches, excellent customer service and the lowest prices anywhere on the world's Finest Watches.
This information is being distributed for the client, by Philip Cardwell at Universal Media Consultants. From top magazines to leading TV stations, UMC has been very effective at distilling client's messages in the major national media. The aim is simple. To multiply message impact and client exposure in highly targeted markets, quickly, imaginatively, and cost-effectively. For more information visit: http://www.universal-media-consultants.com