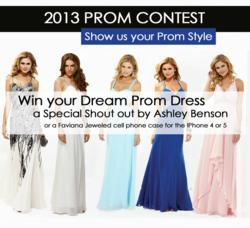 Faviana recently launched their new collection, Faviana Glamour.
New York, NY (PRWEB) March 20, 2013
Faviana, celebrated evening wear designer and Ashley Benson, face of the brand, today announced a contest for customers and fans to showcase their ultimate prom style.
This prom dress contest gives Faviana customers and Ashley Benson fans an opportunity to showcase their favorite Faviana look for prom. The winner of the contest will receive a special shout out from Ashley Benson through social media and a free prom dress chosen specifically by Ashley. Five runner ups will receive a free prom dress and a Faviana jeweled cell phone case for the iPhone 4 or 5. For further information, go the prom contest page.
Faviana has distinguished themselves over the years as a leader in the industry for being able to create the perfect dress for any special occasion. Designed with the fashion smart girl in mind, Faviana speaks to a variety of discerning, fashion forward consumers. Most recently, actress and fashionista Ashley Benson signed on as the new face of the brand.
Having established itself over the past few years as the 'go to' brand for the best designer-inspired looks, Faviana recently launched their new collection, Faviana Glamour. Faviana Glamour is the brand's premier, signature line, catering to the fashion forward woman who appreciates value and style.
Faviana collections are available at specialty and department stores. For more information on Faviana, please visit http://www.faviana.com. For press inquiries, please contact Jamie Kronfeld at London Misher Public Relations at 212-759-2800.