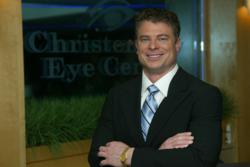 Charlotte, NC (PRWEB) March 27, 2013
A 2012 procedure data review revealed that since Dr. Jonathan Christenbury began treating Presbyopia using laser ReSTOR® in 2005, 95% of patients who received this procedure achieved reading without glasses, 15% above the FDA clinical trials approval of 80%. One reason may be due to the exclusive use of the Catalys femtosecond laser combined with ReSTOR. This laser is 10 times more accurate than the manual technique and simultaneously corrects astigmatism as well. Presbyopia, the loss of flexibility in the Crystalline Lens over the age of 40, causes loss of near vision resulting in the need for reading glasses or bifocals. With his award-winning reputation and more than 5,000 laser ReSTOR procedures to date, patients from the Carolinas, Virginia, Tennessee and all over the East Coast trust Dr. Christenbury to perform the best procedure.
Presbyopia is a part of the normal aging process, occurring over age of 40 which affects near vision. This process results in difficulty focusing for near reading and eventually requires the need for reading glasses or bifocals. The cause is the loss of the ability to focus by the eye's lens. The crystalline lens located behind the pupil is clear and flexible when young. However, this lens has to change shape to focus at near vision, and as one ages, the crystalline lens becomes less flexible and therefore cannot change shape and focus for reading. Eventually magnification will be required to read. Presbyopia worsens over time and even a watch, mobile phone or computer becomes difficult or even impossible to read without glasses.
LASIK vision correction corrects distance vision, but does not correct near vision over age 40. Currently, the most effective permanent treatment to correct presbyopia and eliminate reading glasses or bifocals is the replacement of the lens with a multifocal intra-ocular lens. The most effective lens is the ReSTOR lens, a lens that corrects intermediate, near and distance vision.
A ReSTOR lens is a dual optic lens that replaces the deteriorating lens in the aging eye. This new lens provides one optic for distance and one for near in each eye. Laser ReSTOR offers permanent vision correction for life. This "lensectomy" surgery is similar to cataract surgery, but less involved since a clear lens is removed and not a cataract. Another benefit of the ReSTOR lens is that a cataract can never develop with age. Now the ReSTOR procedure is even more precise and accurate with laser ReSTOR because all incisions are made with the Catalys™ Precision Laser System, a femtosecond laser.
The laser ReSTOR procedure is performed by Dr Christenbury in the Christenbury Eye Center office using mild sedation and topical anesthetic drops. Following the procedure, each patient uses medicated eye drops for several weeks. Recovery is speedy, with patients returning to work within three to four days, using a computer and even driving again.
A recent review of the results of these procedures since 2005 showed that 95% of Dr. Christenbury's patients did not require reading glasses. FDA studies show an average of only 80% of patients achieve reading without glasses.
Dr. Christenbury was recently interviewed during a filming by the Discovery Channel, and he and the practice will be featured in an upcoming show expected to air in Spring, 2013. Watch our Facebook page for more information. For more information about laser ReSTOR, presbyopia treatment and a free consultation, contact Christenbury Eye Center at (877) 702-2020 or visit the Christenbury Eye Center website.
About Christenbury Eye Center
Dr. Jonathan Christenbury established Christenbury Eye Center in 1987 and is known for his groundbreaking work in vision care. For more than a decade he has consistently been one of the first surgeons in the Carolinas to perform many pioneering vision care procedures including LASIK, Visian ICL, and ReSTOR.
Dr. Christenbury performed the first LASIK procedure in the Carolinas in the early 1990s and since that time has performed more than 75,000 laser vision correction procedures. He also performed the first IntraLASIK procedure on the East Coast in 2002 and the first WaveFront Customized IntraLASIK in the Carolinas in 2005. In the Spring of 2005, the doctor was the first Carolinas eye surgeon to perform the ReSTOR® procedure, used both for the treatment of cataracts and for Presbyopia, eliminating reading glasses and bifocals. Today, Dr. Christenbury is the most experienced ReSTOR surgeon in the United States.