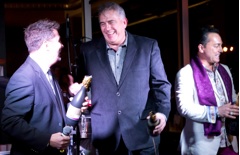 Miami, FL (PRWEB) March 21, 2013
The sizzling Aloft Miami Doral, the first of the Aloft brand from Starwood Hotels in metropolitan Miami, did justice to its hip and sassy personality with a Grand Opening Party that made heads turn. Think mermaid in the swimming pool, fire dancer, a bejeweled dancer clad in all red inside a 15-foot-high globe, feathered greeters and even flash mob in neon suits and masks to compliment the hot Latin band. Forget red, a vibrant blue carpet guided guests into the Aloft lobby, which was perfumed with its signature Orange fragrance, adding to the sensory delights.
After a personal greeting from General Manager, Claudio Bono, and a picture in front of the Aloft Miami Doral press backdrop, guests were given a passport upon entry. Showcasing the hotel, the passport booklet encouraged guests to visit and collect a stamp at each of the hotel facilities, including five meeting rooms, standard King/Queen rooms and connecting room, a hotel suite, plus several other areas of the lobby floor. After guests collected all stamps, they were entered to win prizes ranging from hotel stays to iPads.
More than 1,500 guests went room to room finding a wonderful cocktail in each --- from mojitos and whisky sours to glasses of celebratory champagne. Passed around the lively venue, small bites representative of the Americas fueled the dancing and spirited conversation until close at Midnight.
Claudio Bono welcomed attendees and introduced principal investors Orlando Padron and Henry Contreras who, with a champagne bottle filled with confetti, proclaimed Aloft Miami Doral open and the next go-to-place for the hottest events in the booming Miami Doral area.
For more information or reservations, please call 786 272-7200 or visit http://www.aloftmiamidoral.com.
About Aloft Miami Doral:
The hip new 145-room Aloft Miami Doral, the first in metro Miami of the rapidly expanding Aloft ® brand, opened its doors on March 7 in the booming area of Doral. The Starwood brand is about style-at-a-steal together with forward-thinking technology and public areas that encourage a buzzing social scene. With loft inspired design, rainbow hued accents throughout, and unique openness of a no walls, no limits space, it brings a fresh new product to Miami.
An open lobby features the w xyz ℠ bar with live music, DJs and events, and a grab and go gourmet for light meals and snacks overlooking a large, landscaped heated swimming pool. Another highlight is the re:mix lounge, a playful place or quiet space to read the paper, enjoy free WIFI or pick up a game of pool. Also offered are spacious 800 square foot suites with floor to ceiling windows, bathrooms with dual sinks and large walk in shower.
Other hotel facilities and services include a fitness center open 24/7, over 3200 square feet of meeting space, a plug & play station in guest rooms that charges cell phones, laptops and other electronics while linking to the 42" LCD TV and "Cool Concierge", a tablet based concierge program. Dogs get special treatment with a novel Aloft-branded bed and bowl and treats and toys. Camp Aloft offers kids a bed-in-a-bag and special treats.
Guest room amenities include complimentary WIFI, king or two queen plush platform beds, 250 thread count sheets, custom Aloft amenities by Bliss Spa, walk in showers, Aloft signature coffee and tea amenities, desk, ergonomic desk chair, and more.
# # #