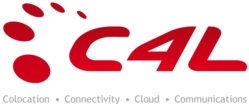 (PRWEB UK) 21 March 2013
C4L today announced that the Milton Keynes data centre has completed a major £3.8 million expansion to cater for increasing demand at the site. The development of the data centre will bring its total capacity to 37,000 sq. ft.
The expansion caters for large and small businesses who rely on mission-critical data, as it is a highly resilient, secure and high density, Tier 4 facility. The expansion allows C4L's customers to scale as and when their business demands increase. At this facility, C4L can offer a range of services including colocation, connectivity, cloud and communications.
Simon Mewett, CEO at C4L comments "Milton Keynes is an extremely popular Tier 4 facility, and the expansion now provides our customers with increased scalability, enabling their IT estate to grow as the business demands. Milton Keynes is a prime data centre, it operates to ISO27001, supports high rack power densities of up to 15Kw, and provides 0.2ms of network latency".
Milton Keynes provides superior resilience through multiple utility sources, advanced power management and sophisticated operational and system monitoring; making it ideal for companies seeking secure off-site data storage or business recovery, data backup and compliance requirements. In addition, the facility is designed to minimise environmental impact as 100 per cent of its energy is from renewable and sustainable resources.
Simon continues "Many businesses, particularly in financial services, retail and enterprise sectors, as well as Software as a Service providers, are looking for Tier 4 facilities that offer the right combination of resilience, 100 per cent availability and 24/7 service. The Milton Keynes data centre provides flexible, cost-conscious data centre solutions that meet a broad range of needs."
About C4L
C4L is a leading data centre colocation and connectivity solutions provider, we have access to over 100 UK data centres and more than 300 globally. In these data centres we offer a range of services including colocation, connectivity, cloud and communications. We have our own data centre located on the South West coast and operate a private, high-capacity, 1-100Gb capable fibre-optic network. This network is entirely Cisco based and links multiple data centres across the UK using a diverse fibre optic backbone and DWDM technology to provide very high performance.
C4L is now in its 13th trading year and our clients include government agencies, FTSE 250 companies, international financial institutions, system integrators, top 100 VARs, resellers and many of the UK's network carriers. Our entire business is committed to customer satisfaction and quality of service and we have achieved certifications such as ISO9001 & 27001 to demonstrate this. C4L was the 2012 winner of HSBC's South West Business Thinking initiative, and has been ranked in the Deloitte Technology Fast 50 and Fast 500 EMEA, as well as the Sunday Times Microsoft Tech Track 100.
For more information visit http://www.C4L.co.uk/pr, alternatively call +44 (0)8000 098 764.