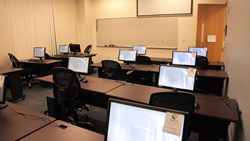 NetCom Learning classrooms are the perfect solution for a company looking for an already set up training space in a convenient location
New York, NY (PRWEB) March 20, 2013
NetCom Learning is offering its new classroom rentals complete with a computer setup available for rent in all three of their convenient locations including Las Vegas, Nevada, New York, New York and Washington, DC. Corporations and organizations looking for a good location for a training class or seminar, NetCom Learning has a convenient training space solution available. Training rooms include a simple six person size classroom rental to a turnkey training solution that will accommodate thirty students. The classrooms are spacious, private, comfortable and quiet, perfect for training purposes.
"NetCom Learning classrooms are the perfect solution for a company looking for an already set up training space in a convenient location," said Russell Sarder, CEO of NetCom Learning.
The NetCom Learning classrooms are an efficient and affordable alternative to renting additional computers and lab space to set up a temporary training space. NetCom Learning provides a time effective choice in computer classrooms and meeting rooms already setup with the latest in high tech equipment including presentation solutions and computers and modern comfortable seating arrangements. By renting training space with NetCom Learning, a company saves time and money by not having to spend a lot of time renting the right equipment and finding a location that is equipped to handle the setup and provide comfortable quiet training space. By renting training space with NetCom Learning, time can be used more efficiently on the presentation and training event itself.
When you rent a training space you will have access to onsite technical support staff that is available seven days a week, a live online environment and state of the art technology solutions. It is possible to pre-ship your materials for your training event and staff is available to preload your software and prepare a custom setup if necessary. If requested NetCom Learning can provide speaker podiums, microphones, IP-based telephone system, TV, VCR, networked printers, office supplies, high speed photocopier service, fax machine available, laptop rental service, hi-definition webcams, live online environment, instructors and speakers and the use of an event coordinator.
In the Washington DC location NetCom Learning offers three seminar classroom style rooms. The facility is located directly off North Wakefield Street in the Ballston Business Complex, convenient to Washington, DC which is only ten minutes away. The three custom built classrooms have seven days a week availability, and a friendly client focused staff is available if desired. Complimentary coffee, tea, bottled water and snacks are available during the day and there are easy options for breakfast, lunch or dinner.
The Ballston Business Complex and NetCom Learning's office is located at 1100 North Glebe Road, Suite GR-3 in Arllington, Virginia. Staff is available to discuss rentals from 9:00 p.m. to 7:00 p.m., Monday through Friday. Call 202 618-3130 for more information or for more information on how to rent a training space In the Washington, DC area or other NetCom Learning other locations go to: http://www.netcomlearning.com/services/rentals.phtml?advid=412
For more information on how to rent a training space in Arlington, Virginia or NetCom Learning other locations go to: http://www.netcomlearning.com/services/rentals.phtml?advid=412
About NetCom Learning
NetCom Learning delivers top-quality room services and certification solutions to businesses, individuals and government agencies. Since its inception in 1998, NetCom Learning has serviced over 80 percent of the Fortune 100 and over 45,500 corporate clients. NetCom Learning's advantage is consistent top-quality service. Headquartered in Midtown Manhattan, NetCom Learning operates full service laboratories in New York City, Las Vegas and Washington D.C. Our clients trust us to consistently deliver superior service with an exceptional staff and remarkable environment. Our commitment to superior service, technology and equipment separates us from the rest. We guarantee our classroom environment will be suitable for all of your corporate occasions. Your trust is paramount to us and we will do all we can to earn and keep it.