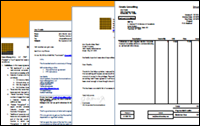 BeyondRecognition uses visual similarity to automatically classify documents and extract data, converting unstructured Big Data into actionable information.
Denver, CO (PRWEB) March 21, 2013
Tim Dix, CEO of Xpriori, a leading provider of e-discovery, document management, and business analytics, announces today that Xpriori has signed a channel partner agreement with BeyondRecognition, LLC ("BR"). Under the terms of the agreement, Xpriori will provide sales, marketing and support for BR's document technology.
Dix notes, "We are excited to have the BR suite of tools to add to our offerings. BR's innovative technology provides enterprise-class document processing solutions with a whole new set of capabilities. BR literally has a new way of looking at documents, beginning with its document classification based on visual similarity, and including visual coding, glyph-based text creation, logical document boundary determination, and mass redaction. BR provides a way to quickly and accurately convert unstructured or semi-structured documents into actionable information."
Dix continues, "BR can do many of the projects or processes that used to require offshore keying or coding, whether for text recreation or for document coding. We are already seeing a great deal of interest in BR in banking and financial services, energy, healthcare, insurance, government and information management sectors – basically any sector that has large volumes of native files or scanned documents to process quickly and accurately."
John Martin, founder and CEO of BeyondRecognition states, "We are excited to have Xpriori help bring our technology and products to market. Xpriori has a long history of dealing with unstructured information, and BR represents a breakthrough for document classification, data extraction and conversion to actionable information."
Xpriori, LLC
Xpriori is a privately held company headquartered in Denver and Colorado Springs, CO. Since 2003, the company has developed proprietary technologies, products and services for document management, eDiscovery, compliance, and review and data analytics markets as well as for XML-based data management. Xpriori also offers best-of-class products including the BeyondRecognition™ Visual Similarity and Classification technologies for document management and other leading eDiscovery solutions. Visit Xpriori at http://www.xpriori.com or contact info@xpriori.com. Contact Xpriori at 720-439-9937 for more information, arrange a demonstration or discuss your needs and requirements.
BeyondRecognition, LLC
BeyondRecognition ("BR") uses an advanced suite of tools to dramatically compress the time it takes an organization to convert scanned or native electronic documents to actionable intelligence and load that information in decision support systems. BR's tools are easy to set up and operate, and greatly reduce the number of operators and technical support staff required for document conversion. For more information, visit http://www.BeyondRecognition.net or contact info@BeyondRecognition.net.
Media Contacts:
Xpriori: Tim Dix, CEO, 719-425-9840, ext. 2#, tdix(at)xprior(dot)com
BeyondRecognition: Joe Howie, VP Corp. Communications, 918-894-6943, jhowie(at)beyondrecognition(dot)net.
# # #