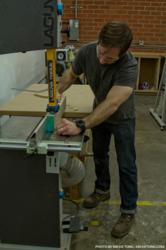 A new woodshop and educational resource for people of all skills levels has opened in Los Angeles, California, called the Community Woodshop.
Irvine, CA (PRWEB) March 27, 2013
Amid a dwindling number of woodshop vocational classes being offered in city school districts – and no place for people to hone their woodworking skills – a new woodshop and educational resource for people of all skills levels called the Community Woodshop has opened in Los Angeles, California, according to Laguna Tools, a leading distributor and manufacture of woodworking equipment.
For the founders Bob and Roy Stevens, what began as an idea to create beautiful, natural, wooden toys, has turned into an entirely different venture for two brothers – a fully equipped woodshop open to the public.
"My brother and I looked all over the LA area for a woodshop where we could work on prototypes of our idea, but found absolutely no woodworking facilities that were open to the public," said Scott Stevens, who has a background in architecture and a passion for teaching and sharing woodworking skills. "And then it hit us… why not open our own woodworking shop and fill this obvious void. We honestly thought if we created the right environment for woodworkers… they would come. And fortunately for us – they have!"
And so in 2012, Community Woodshop became a reality in Los Angeles.
"We attract a full spectrum of woodworkers," said Stevens. "From accomplished artists who create sculptures out of exotic hardwoods… to an entertainer who makes props for his magic act… to people who simply want to learn more about woodworking and create beautiful and useful projects in the process."
According to Stevens, what makes the Community Woodshop so special is the energy of working with fellow woodworking aficionados. "There's lots of energy in our shop," he said. "Whether it's a simple chair or a complete cabinet, people who come here find themselves surrounded by kindred spirits with one goal in mind – to get the most out of their woodworking skills and learn new techniques – and everybody has a great time in the process."
The Community Woodshop, where woodworking classes began in February, features a fully stocked shop with the latest tools and machines.
"Most of our equipment came from Laguna Tools in Irvine," said Stevens. "It's good working with a local company that offering affordable, leading edge equipment.
Included among the equipment available at The Community Woodshop from are a Platinum Series V-Way Slot Mortiser, "Circulator" Shop Air Filter, 2 hp Mobile Cyclone Dust Collector, 14" x 14" Oscillating Spindle Sander, Platinum Series Hollow Chisel Tilting Mortiser, LT14 x 14 SUV Bandsaw, 16" Planer with ShearTec ll, Platinum Series 18-47 Lathe, Platinum Series 17" Variable Speed Drill Press, Pro Shaper 5Hp 220V 1 Phase, LT14/LT16 3000 Series Bandsaw Mobility Kit, and Resaw King.
"Suffice it to say, we have everything an aspiring or accomplished woodworker needs in the way of tools, space… and now, classes," he added.
Stevens said he looked at woodshops across the country, creating a list of things he particularly liked about them, and what he felt needed tweaking, so they could create the very best woodworking learning and project environment for their clients.
"What makes The Community Woodshop so popular for our clients is that they not only have access to classes from beginning to woodturning and much more – but they have access to the finest tools in the industry from Laguna Tools," he said. "They don't have to use the space in their garage… or buy tools… all they have to do is come to The Community Woodshop and everything they need is right here under one roof."
Located in the Glassell Park area near Dodger Stadium, The Community Woodshop is situated within the Keystone Arts Space – home to a myriad of artisans. "People who come here feel as though they are part of an artistic community – and it's very inspiring."
The Community Woodshop is available for monthly memberships and classes, but they also offer day passes, too. As for the toy prototype Stevens and his brother Rob (also an instructor at the Woodshop) were planning to build? That has been put on the back burner for now. "We're having too much fun helping other people explore their woodworking creativity."
For more information on the Community Woodshop, and new classes that are currently forming, go to http:// http://www.communitywoodshopla.com.
Laguna Tools, based in Irvine, California, has been leading the industry in woodworking innovations for 29 years and continues to challenge the industry with new advancements. At Laguna Tools we aim to be "globally local" by investing our time, support, products and services into many community outreach programs.
For more information on the Laguna Tools quality line of performance products, please call 1-800-234-1976 or visit our website at http://www.lagunatools.com.