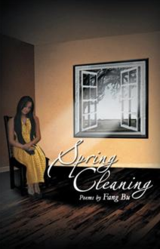 'It's about living in the moment,' Bu says. 'Not getting so stuck in routines that you forget to look around and observe something from a different angle once in a while.'
Myrtle Beach, SC (PRWEB) March 21, 2013
While most people are preparing to clean out their closets this spring, Fang Bu has chosen to clean out her mind.
In her new book, "Spring Cleaning", author Fang Bu reacts to life with a poetry collection of impressions, observations, histories and re-imagined themes.
"Spring Cleaning" represents the release of the little interpretations, revelations and flickers of imagination that have spent their time locked in Bu's mental closet. The result is a collection of poems that explores extraordinary characters trying to make sense of their surroundings.
Inspired by fairy tales, nature, travel, classical literature and the idiosyncrasies of medical education, the poetry in Spring Cleaning conveys the idea of seizing the day and gaining inspiration from everyday life experiences.